Fairfax Master Naturalist Basic Training Class
We are no longer accepting applications for the Spring 2018 basic training glass. Sign up for our mailing list to get announcements for our next class.
Training classes are taught by local experts covering topics in biogeography, ecology, geology, weather and climate, native flora and fauna, citizen science, interpretation, and much more.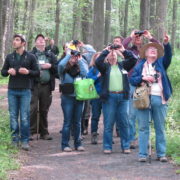 The Basic Training Course, the first step towards initial certification, offers fun and interactive instruction on our local environment taught by recognized experts. Becoming certified typically takes 6 to 12 months. The first step is attendance at all classes and field trips, completion of the final exam, service project presentation and final presentation, and class makeups.
Initial certification, as well as annual recertification, requires 8 hours of continuing education and 40 hours of volunteer service. Basic and continuing education is not only meant to be educational but to prepare participants to provide valuable volunteer service as master naturalists to the community.