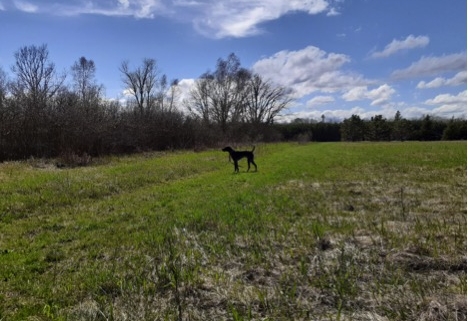 Fairfax Master Naturalist in Remer, MN, Home of Big Foot Sightings
Feature photo: Boozie Tim on point and neither I nor the evaluators are near. He is dragging a line because when out for banding work, once he points, I will tie him to a tree while the actual banding occurs.
Article and photos by FMN Melissa Stagnaro
My German Shorthair Pointer, Boozie Tim, and I weren't looking for Sasquatch but were preparing for locating American Woodcock (Scolopax minor) hens and their chicks for banding.
I am an FMN graduate of 2021 and have been practicing banding at the Occoquan National Wildlife Refuge. While there have been a few woodcock banded at Occoquan, the mist nets most often capture passerines. Passerines are also called perching birds or songbirds. Passerines are distinguished from other orders of birds by the arrangement of their toes (three pointing forward and one back). The knowledgeable and caring volunteers at Occoquan helped me learn how to safely handle and band birds. I wanted to take what I had learned at Occoquan to a new level to find and band woodcocks.
Boozie Tim does other conservation work and I wanted to see if he could do pointing dog specific conservation work. He has been working birds since he was about four months old. Pointing-type dogs, as opposed to flushing-type or retriever-type dogs, should locate live, ground nesting birds and stand still oriented in the direction of the bird. Trainers often start pointing dogs out on pigeons since there are no game laws for pigeons, pigeons put off a strong odor making it easy for a beginner dog to find, and pigeons are, generally, strong flyers so if the dog is a bit naughty during training, pigeons safely fly off.
I studied up on woodcock habitat, behavior, and intricacies of banding, then headed out to Remer, Minnesota to a woodcock banding camp at the Pineridge Grouse Camp with my German Shorthair.
I had to pass a written test, demonstrate banding proficiency, and handle
Boozie Tim through a bird course. He had to prove that he could find birds, hold point, and be steady. The dogs were all tested using pigeons, not woodcock, for safety and because during the spring only certified dogs are allowed to be "hunting" for woodcock. The bird course consisted of three stations. The first was a straightforward set up with a pigeon mimicking a male woodcock being found then flying directly away. The dog is expected to point the bird on the ground and be still as it flies away. The second was a test to see if the dog would stop when it saw a bird fly off; that is, only on the visual of the bird flying, not when the dog had smelled the bird. For this test a pigeon was in a launcher and, with careful placement and good timing, the pigeon was popped out of the device and flew off before the dog could have smelled it. Upon seeing it, Boozie Tim, with no command or help from me, was expected to, and happily did, freeze. On the woodcock spring "hunting" grounds, male woodcock and ruffed grouse, another ground nesting bird, might just fly off and a pointing dog must not chase them but instead must remain still, then focus on the handler to be instructed on what to do next. On the third station a pigeon was set up to act like a woodcock hen trying to lure a predator away from her nest or chicks. The hen woodcock does a distress call and mimics being wounded to move the attention off her nest or chicks. In the test the pigeon was tethered to a weight such that the bird flew, landed near the dog, flapped its wings, flew a bit more but again landed near the dog and kept doing this until the evaluators were sure the dog was not tempted to break point and go to the pigeon. No pigeons were harmed; all the dogs passed the tests.
To find woodcock one must understand their habitat preferences (and the timing of their migration). For the male display flight to attract a mate, he choses an open field for his singing ground. Although the first night it was too stormy for the ritual, every other night at banding camp all the attendees got to watch the male strut his stuff for the potential 'ladies'.
It is fairly easy for an experienced dog to point woodcock, although the early spring growth could create a scent challenge with the release of chlorophyll and late spring growth could create a pinpoint location problem for the handler if the dog is pointing a thick bit of cover but the handler is not able to visually locate the chicks. Hens on nests are a special scent challenge for dogs and (other) predators; to protect themselves and the eggs, the hen puts off minimal odor. Team effort is required to have the best chance of success!
Once handlers are in a good spot – young forest with moist soil and a singing ground nearby – they keep their eyes peeled for "splash" (elimination material). Of course many birds eliminate in the woods but based on the size, shape, and location one can often locate woodcock splash.
The Minnesota banders have been pulled into some interesting research projects to do along side their banding efforts. One researcher is supplying banders with containers to gather fresh fecal matter from, separately, hens and chicks, to better understand eating habits. Early work shows a more varied diet than earlier believed.
It is unclear how long banding efforts will continue given the affordability of
GPS trackers for the birds to wear. Unlike banding, which at most, would provide two data points – once when banded and twice if recovered (nationwide, only about 2 percent of banded woodcock are recovered), GPS trackers can provide data points along the whole migration route. Several of the woodcock banders are also certified to attach GPS trackers so the "hunt" over pointing dogs will continue but instead of an anklet, birds may be left with a back pack.
Boozie Tim and I are looking forward to returning to Minnesota in spring of 2023 to find some chicks and contribute to increasing the public's awareness for woodcock and the need for woodcock habitat.
https://fairfaxmasternaturalists.org/wp-content/uploads/2022/06/BT-points.jpg
351
468
Janet Quinn
https://fairfaxmasternaturalists.org/wp-content/uploads/2017/02/FMN-Logo-300x222-1-300x222.png
Janet Quinn
2022-06-05 06:49:43
2022-06-08 07:10:39
Fairfax Master Naturalist in Remer, MN, Home of Big Foot Sightings