Who Virginia Master Naturalists Are
If you love nature and want to be part of natural resource conservation in your community, then you are a perfect candidate to become a Virginia Master Naturalist! Virginia Master Naturalists are volunteer educators, citizen scientists, and environmental stewards who perform volunteer service to help conserve and manage the natural resources and public lands of Virginia.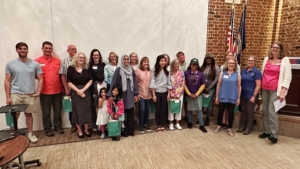 FMN Spring 2023 Class (Photo by Ana Ka'ahanui)
How To Begin
The first step to becoming a Virginia Master Naturalists is to complete Basic Training. The Basic Training Course hosted by the Fairfax Master Naturalists (FMN) chapter offers interactive instruction about the natural history and ecology of the area taught by local experts. Basic Training includes both field and classroom experiences over the course of 12 weeks. The course will include classroom sessions once a week and four Saturday/Sunday field trips.
Basic training covers topics that include the following:
History and importance of naturalists
Geology and soils
Weather and climate
Evolution, classification, and use of dichotomous keys
Ecology (i.e. basic principles, forest ecology, wetlands ecology)
Native flora and fauna (i.e. botany, dendrology, entomology, herpetology, ornithology, ichthyology, mammalogy)
Scientific inquiry and citizen science
Basic education and interpretation skills
Virginia biogeography and land use
Training Requirements and Certification
Attendance at classes and field trips is mandatory. Trainees should not miss more than three classes (or 2 classes and 1 field trip), and any missed classes or field trips must be made up within 12 months in order for trainees to graduate. Make-up opportunities are available with neighboring chapters. Trainees are evaluated with a take-home final exam and are required to do a short presentation on a natural resource topic at the end of the training course.
Graduates of Basic Training are eligible to become Certified Virginia Master Naturalists upon completion of 40 hours of volunteer service and 8 hours of continuing education for FMN-approved service and training opportunities.
When to Apply
Basic Training Applications are typically open during the winter and summer of each year. To sign up to receive our monthly announcements, fill out the form on the home page subscribe.
Questions? Email FMN Communications at [email protected].