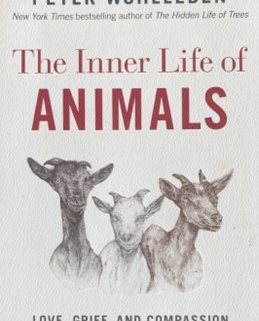 (Greystone Books Ltd, 2016, 248 pages)
A book review by Mike Garth, Fairfax Master Naturalist
As an avid nature photographer, I have spent countless hours observing wildlife, waiting for the peak moment to capture a photograph. Through it all I've learned habits and behaviors and developed a deeper sense of appreciation for the moment-by-moment nature of the lives that animals lead and endure.
I'm not sure how I came across "The Inner Life of Animals" by Peter Wohlleben (a German forester). But I found the title intriguing as it resonated with my belief (greatly influenced by those countless hours of observation) that there is more going on in an animal's daily existence than meets the eye.
Indeed, I found the book offers a captivating journey into the emotional and intellectual world of animals. Through colorful narration and anecdotes, Wohlleben reveals the incredible intelligence, emotional depth, and cognitive abilities shown by a wide variety of animal species. From the empathetic behavior of elephants mourning their deceased companions to the intricate communication among ravens, each chapter reveals the profound inner lives of animals that often go unnoticed. There's grief, courage, and shame to name just a few.
Be aware that this book is not a scientific resource. It does offer some scientific findings and complex concepts that are skillfully blended to complement observations made by Wohlleben. This is one of the book's greatest strengths, making the book readable for a general audience yet still satisfying those of us who want some science thrown in. The goal of the book, I believe, is to spark curiosity and provoke contemplation about the inner lives of animals and perhaps inspire a greater appreciation for the way that we are all connected in some way.
For a naturalist who appreciates studying and understanding the complexities of the natural world, this book can offer valuable knowledge and a deeper understanding of animal behavior.
https://fairfaxmasternaturalists.org/wp-content/uploads/2023/05/The-Inner-Life-of-Animal-By-Peter-Wohlleben.jpg
389
259
Mary Ann Bush
https://fairfaxmasternaturalists.org/wp-content/uploads/2023/08/VMN-Fairfax-cmyk_w223h156.jpg
Mary Ann Bush
2023-05-26 20:40:01
2023-05-26 20:40:01
"The Inner Life of Animals: Love, Grief, and Compassion: Surprising Observations of a Hidden World" By: Peter Wohlleben