'Natura Longa, Vita Brevis' – this aphorism literally translates to 'nature is long, life is short'. Meaning that nature will be around forever and we as human caretakers (and naturalists) have but only our lifetimes to nurture it. As John Muir wrote in his journal, My First Summer in the Sierra:
"What pains are taken to keep this wilderness in health, — showers of snow, showers of rain, showers of dew, floods of light, floods of invisible vapor, clouds, winds, all sorts of weather, interaction of plant on plant, animal on animal, etc., beyond thought!"
Of course, John Muir was journaling about how natural forces are in constant motion as a systemic, cyclical process of self-preservation but as the aphorism implies, we must be stewards of nature and take pains to ensure those natural processes stay in motion by actively sustaining the health and vitality of our earth's natural mechanisms.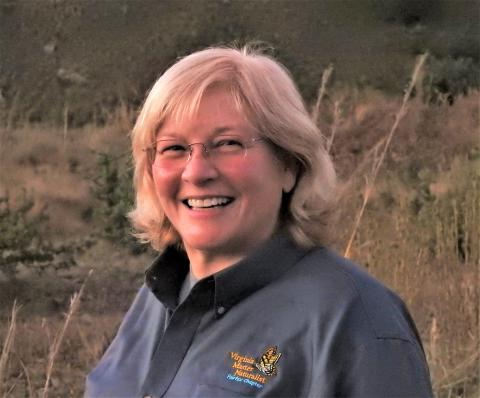 To that end, Cathy Ledec (FMN 2017) has worked tirelessly for many years to "keep this wilderness in health" and will be honored on November 20th with the 2020 Sally Ormsby Environmental Stewardship Award recognizing her 17 years of volunteer service at Huntley Meadows Park (HMP) and for the Fairfax County Park Authority (FCPA). The award will be presented at the 2020 Elly Doyle Virtual Awards Ceremony.
As the award letter points out, "Cathy's outstanding leadership and volunteerism, including President of Friends of Huntley Meadows Park (FOHMP), have contributed significantly to the long-term preservation of natural resources at Huntley Meadows (HMP) and throughout Fairfax County. Her advocacy on behalf of the Fairfax County Park Authority has successfully educated many about the importance of a healthy environment in maintaining Fairfax County's high quality of life for residents, businesses and visitors. Her work is firmly focused on improving the environment and on protecting and restoring irreplaceable natural resources, including native wildlife."
Cathy has contributed to a wide spectrum of high-impact causes such as supporting FCPA budget proposals, defending parkland from development, hands-on field projects, and serving on advisory boards or commissions that influence policy as well as others of a simpler type, such as the one I personally took advantage of as I walked the trails at HMP – the donation of a trail side bench.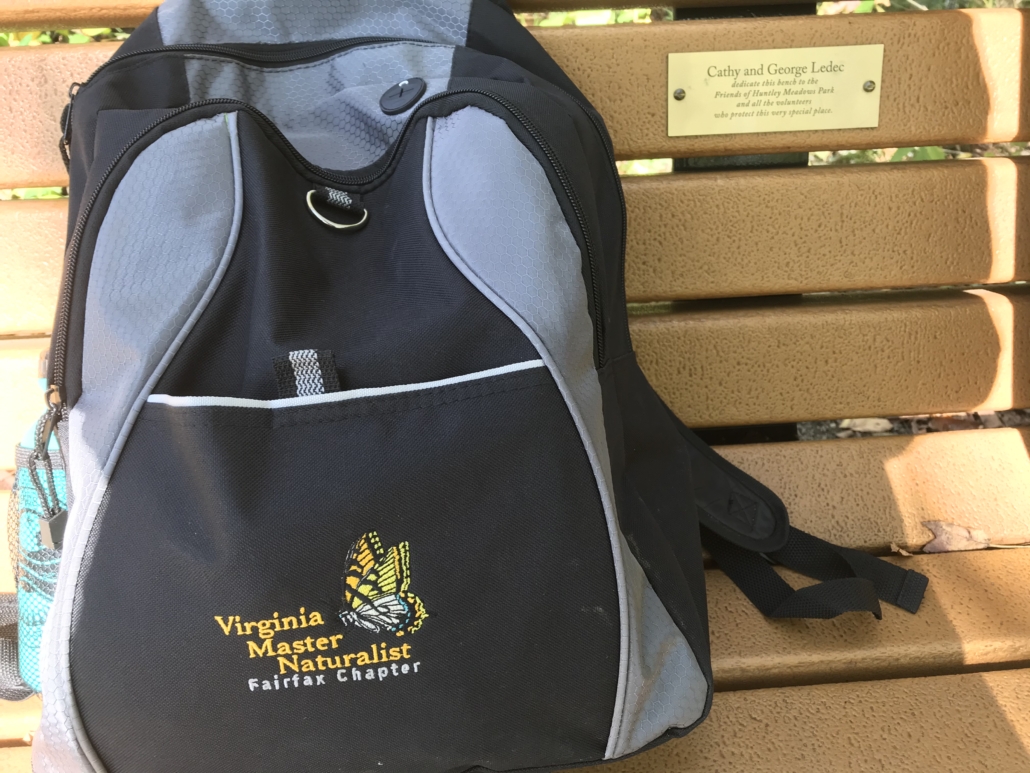 Karen Sheffield, Park Manager (HMP) wrote, "Cathy is a citizen steward. Cathy became a park volunteer at Huntley Meadows in 2003 monitoring bird nesting boxes for species presence and breeding success. Cathy also volunteers at the Norma Hoffman Visitor Center front desk, welcoming visitors, listening to visitor's park experiences and answering questions, and sharing her expertise and stories with them. Environmental stewardship is one of Cathy's main messages when interacting with visitors. Cathy also volunteers on large natural resource projects and leads community group projects, like tree plantings. Cathy's 17-year service to the park has made and continues to make a positive and lasting impact, not only on the natural resources in the park but also on the visitors and volunteers she interacts with. Cathy truly embodies Huntley Meadows Park's mission: To inspire community engagement through mindful management and meaningful encounters."
Mary Cortina, former Park Authority Board Liaison to Friends Groups added, "There are so many smart, educated, talented, and passionate people in Fairfax County and it is truly an inspiration to serve in this County, if only to get to know a few of them. Cathy Ledec stands out because she just works so hard and keeps at it – long after everyone else has called it a day – she's there with one more letter to write, another tree to plant, another meeting to attend, another park to save, another community to build. Cathy Ledec is truly a champion for the environment and parks in Fairfax County. We LOVE Parks in Fairfax County, and all the people who work on their behalf, including the staff and volunteers, deserve our gratitude for improving our quality of life. Thank you for the service you provide to Fairfax County and for recognizing the important contributions of these special volunteers in our community."
Cathy's unique ability as an advocate and planner for our county parks coupled with her passion for nature and humble spirit make her a true steward for nature. She encourages others to first identify areas of personal interest and then find out how to get involved in those areas. She suggests checking out web sites such as Friends of Huntley Meadows Park (FOHMP), Fairfax County Park Authority (FCPA), Volunteer Fairfax, Leadership Fairfax and others as launching points for your volunteer journey. Engaging with fellow VMN colleagues and reviewing the FMN service catalogue are additional resources to identify volunteer service opportunities.  Do you have a favorite county, state, or national park? Perhaps one that is in your immediate vicinity. Starting in your local neighborhood park cuts down on travel and enables you to witness immediate improvement to your community. To expand your horizons, most county and state parks have an associative 'Friends Group' that can be joined; this can lead to more service or advocacy opportunities. A Friends Group is not officially sponsored by a park but collaboration is frequent as well as mutually supportive and beneficial. Of course, most parks can be contacted directly to inquire about volunteer opportunities. Another good option would be to join a non-profit board through Volunteer Fairfax for example.  Once opportunities are identified we need only to take the next step to begin our own personal journeys.  Links listed at the end of this article are good examples to get you started.
Cathy's leadership journey to the Sally Ormsby Award serves as a motivational model that others can follow.  Ledec says, "it is important that each of us find our passion and shape our volunteerism around this.  Learn from every volunteer experience and along the way you will meet many that inspire you to ramp it up to the next level.  Expand your base of knowledge and embark on new adventures.  Along the way you will meet, be inspired by, and learn from others.  Fill your journey with experiences that build on prior activities.  Lead by example and with enthusiasm.  Before you know it, you'll be the next Sally Ormsby Awardee!".

Example resource links:
FOHMP – http://www.friendsofhuntleymeadows.org/
FOMNSP – https://friendsofmasonneckstateparkinc.wildapricot.org/
Volunteer Fairfax – https://www.volunteerfairfax.org/
Volunteer FCPA – https://www.fairfaxcounty.gov/parks/volunteer
Volunteer VA – https://www.dcr.virginia.gov/state-parks/volunteers
https://fairfaxmasternaturalists.org/wp-content/uploads/2020/10/HMP-vc-scaled.jpg
1702
2560
Jerry Nissley
https://fairfaxmasternaturalists.org/wp-content/uploads/2023/08/VMN-Fairfax-cmyk_w223h156.jpg
Jerry Nissley
2020-10-27 22:57:31
2020-10-27 22:57:33
Natura Longa, Vita Brevis