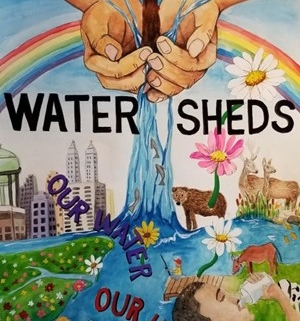 Image: Courtesy of the Northern Virginia Soil and Water Conservation District
Over the years young people have become more environmentally conscious. More and more Schools are providing educational opportunities for students to learn about environmental issues including sustainability and conservation.
One such learning opportunity was brought to my attention by a teacher, Ms. Williams, a volunteer at an after-school program leading an environmental awareness and water conservation class.  The students through their research came upon the 2019 FMN webpage article, "The Incredible Journey Game: Understanding the Water Cycle One Drop at a Time" by Kristina Watts.  Ms. Williams class found this article to be an invaluable resource.  They wanted to express their gratitude.
The story does not end there. The topic of water conservation was particularly important to Ms. Williams' students.  One of her students, Cheryl, found a very informative and pro-active article entitled, "The Ultimate Guide on Water Conservation: How To Save Every Drop" by Jonathan Jacobs. This article addresses the importance of water conservation and provides some very practical ways to take better care of our precious water supply.
Many thanks to Cheryl and the rest of her classmates for sharing this article with the FMN program. It is definitely a timely and informative addition to our webpages.
It is always good to hear from people who have found the FMN Blog articles informative and helpful. It is especially wonderful to know the articles have been used to enhance a learning experience.
Mary Ann Bush
FMN Communication Committee Chair.
https://fairfaxmasternaturalists.org/wp-content/uploads/2023/11/Image-Courtesy-of-the-Northern-Virginia-Soil-and-Water-Conservation-District.jpg
480
300
Mary Ann Bush
https://fairfaxmasternaturalists.org/wp-content/uploads/2023/08/VMN-Fairfax-cmyk_w223h156.jpg
Mary Ann Bush
2023-11-25 18:39:35
2023-11-25 18:39:35
A Special Thank You to Ms. Williams and Her Thoughtful Students