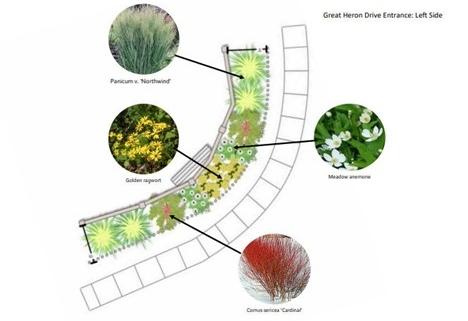 Community Entranceway Landscaping
Article, Photos, and Images: Courtesy of Plant NOVA Natives: Water's Edge at Fair Lakes Homeowners Association 
The Audubon-at-Home program in partnership with Plant NOVA Natives obtained a grant from Dominion Energy to award seven matching mini-grants to community associations for converting their entranceway landscaping to all Virginia native plants. The mini-grants stipulated that the landscaping be designed so that the community's standard landscape company could maintain it. The projects were installed in the fall of 2021. The "after" photos are from Spring 2022. Below, the organizer from Water's Edge at Fair Lakes Homeowners Association shared some thoughts about their experience that may help other communities.
​Note: Any community or individual in Northern Virginia who wish to use their property for wildlife sanctuary is encouraged to invite an Audubon-at-Home volunteer to walk their property with them and strategize.
In Fairfax County, The Water's Edge at Fair Lakes Homeowners Association participated in the program.
From the Water's Edge Organizers:
It is so exciting to see these plants come back this year! We have several signs that you will notice in the pics. Besides the Native Plants sign, there are some smaller signs as well. The smaller green one requests that the plants not be sprayed. There are also small signs with numbers. The numbers correlate to the educational piece, which is the QR codes in multiple places, which invite people to learn more about the plant that is there. This is something we said we would have by this spring. We are still looking into other educational opportunities for the community and will take any chance to share the work that has been done and the benefits associated with planting natives. Since the entrance is located on a walking path in the area, the QR codes are placed so that anyone walking by has the opportunity to learn more about any of the plants. On our part, having this done and engaging with the work has prompted us to consider only natives in other parts of the neighborhood as trees need to be replaced, beds need to be rebuilt, and our own properties need plantings. The invasives that were in the area, such as the lilies, have been difficult to remove, and they came back in full force this year. Hands Dirty came back to remove more of them, and we will continue to monitor the need for removal. During bouts of hot and/or dry weather, we are watering by hand or hiring the landscaping company to water the plants at the entrance as well as other native plantings we are working to establish.
Additional articles about this program and participants:
Welcoming Visitors with Native Plant Landscaping — Audubon Society of Northern Virginia (audubonva.org)
https://www.plantnovanatives.org/entranceway-landscaping
Plant List:
​
Switchgrass (Panicum virgatam 'Shenandoah'
Southern Wax Myrtle (Morella cerifera)
Butterfly Weed (Asclepias tuberosa)
Eastern Bluestar (Amsonia tabernaemontana)
Pennsylvania Sedge) (Carex pensylvanica)
Wood Aster
Woodland Phlox (Phlox diviracata) 'Sherwood Purple'
Native azalea
Meadow Anemone
American Strawberrybush (Euonymyous americanus)
Aromatic Sumac (Rhus aromatica)
Moss Phlox (Phlox subulata) 'Emerald Pink'
Beardtongue (Penstemon digitalis)
Black-eyed Susan
Culver's Root
False Blue Indigo (Baptisia australis)
Golden Ragwort (Packera aurea)
Mountain Mint
Beebalm
Sundrops
Before Picture and After Pictures:
https://fairfaxmasternaturalists.org/wp-content/uploads/2022/09/Waters-Edge-Diagram.jpg
379
468
Mary Ann Bush
https://fairfaxmasternaturalists.org/wp-content/uploads/2017/02/FMN-Logo-300x222-1-300x222.png
Mary Ann Bush
2022-09-04 17:39:27
2022-09-21 20:42:20
Community Entranceway Landscaping