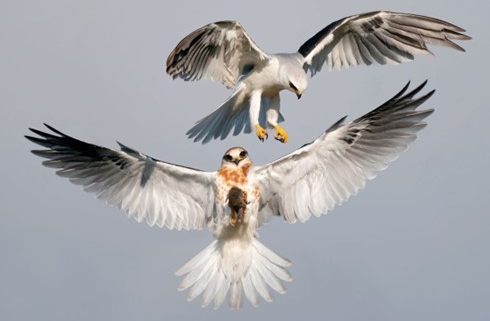 Huntley Meadows Photography Exhibit: SATURDAY, March 4th
Photo: White-tailed Kites, Jack Zhi/Audubon Photography Awards 2022 Grand Prize Winner
Sunday, March 4, 2023
1:00 – 3:00 PM
The Norma Hoffman Visitor Center
Huntley Meadows
3701 Lockheed Blvd, Alexandria, VA 22306
Free but donations appreciated.
No registration required.
Please join this opportunity to view the 2022 Audubon Photography Awards Traveling Exhibition at the Norma Hoffman Visitor Center at Huntley Meadows in Alexandria, VA. Visitors can enjoy a display of the stunning winning images (and videos) and learn more about local birdlife in Virginia.
In the 13th year of the contest, winning photos, videos and honorable mentions were selected from 2,416 entrants from all 50 states, Washington D.C. and 7 Canadian provinces and territories to appreciate the wonder of birds and the places they inhabit. The competition continued to award the Female Bird Prize and Video Prize, which were successfully introduced last year. The Female Bird Prize highlights female birds, which are often overlooked and underappreciated in bird photography and conservation. The Video Prize recognizes the dynamic movement and behavior of birds and the ways we view and memorialize them.
All images of the winners and honorable mentions can be found here, and information on the contest rules and judging can be found here.
https://fairfaxmasternaturalists.org/wp-content/uploads/2023/03/White-tailed-Kites-Jack-Zhi_Audubon-Photography-Awards-2022-Grand-Prize-Winner.jpg
367
490
Mary Ann Bush
https://fairfaxmasternaturalists.org/wp-content/uploads/2017/02/FMN-Logo-300x222-1-300x222.png
Mary Ann Bush
2023-03-02 14:41:08
2023-03-02 14:41:08
Huntley Meadows Photography Exhibit: SATURDAY, March 4th