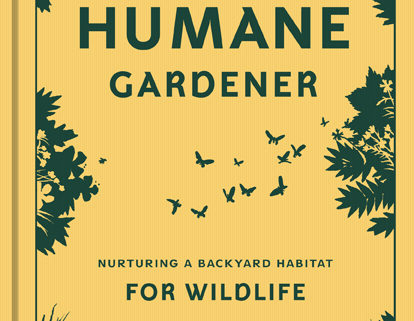 Review of The Humane Gardener, by Nancy Lawson
Reviewed by Ann Di Fiore
As a Fairfax Master Naturalist and Audubon at Home Ambassador, I am always on the lookout for books on native plant and wildlife gardening. The Humane Gardener (2017, 224 pp) offers insights on both topics, but what sets Lawson's book apart from others is her emphasis on creating habitats that nurture all forms of wildlife. Interspersed with chapters on native plantings, creating habitat, and the benefits of decaying plant material are profiles of humane gardeners whose properties range from modest backyards to commercial farms.
Many of the principles Lawson lays out are well known to master naturalists: "Plant for all seasons and sizes" to address "diverse diners"; use "green mulch"—native grasses and groundcovers—rather than bark in between shrubs and trees to improve soil; choose straight species over cultivars; and don't "love" –overwater and over fertilize—native plants.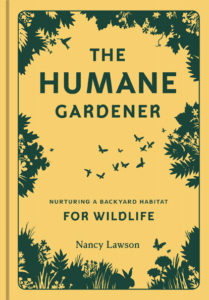 Lawson urges us to be attentive to gardening activities that have tragic consequences for wildlife.  In a section entitled "Don't Mow the Teenagers,"she warns us that mowing, pruning, and raking can cut short the life cycles of ground insects and other animals. Fritillary larvae, for example, crawl onto violet plants in early spring and, as Doug Tallamy puts it, "we murder them with our lawn mowers."  Baby rabbits in hidden nests and other young animals are vulnerable as well.
When removing invasive plants from our properties, Lawson asks us to "triage" their removal to minimize adverse effects on wildlife that make use of these plants. Early blooming invasives may be the only available nectar sources to bees, fruiting shrubs like Amur honeysuckles may fill a significant part of a bird's diet.
In The Humane Gardener, Lawson addresses an uncomfortable truth:  the wild creatures most gardeners want to support are songbirds and pollinators. Many other forms of wildlife we consider interlopers—enemies. She enumerates the cruelties inflicted by pest removal services, glue traps, even "humane" deterrents (predator urine, for instance, is captured from caged coyotes and other animals on fur farms). She advocates flexibility and a more generous perspective:  opossums and raccoons eat carrion, ticks, and slugs; rabbits devour dandelions; and moles and chipmunks till the soil, increasing its fertility.
In a world of shrinking natural spaces and biodiversity, Lawson asks us to reconsider our ideas of ownership and make room for all forms of wildlife.  Above all, she asks that we be conscious of the consequences of our routine gardening choices.  She promises that our gardens will be healthier—and more humane—as a result.
Want to review a resource? We'd love to hear from you. Instructions for submission await your click and commitment.
https://fairfaxmasternaturalists.org/wp-content/uploads/2018/01/HumaneGardener-cover-FINAL.jpg
594
414
vmnfairfax
https://fairfaxmasternaturalists.org/wp-content/uploads/2017/02/FMN-Logo-300x222-1-300x222.png
vmnfairfax
2018-01-26 12:13:17
2019-06-04 00:02:53
Review of The Humane Gardener, by Nancy Lawson