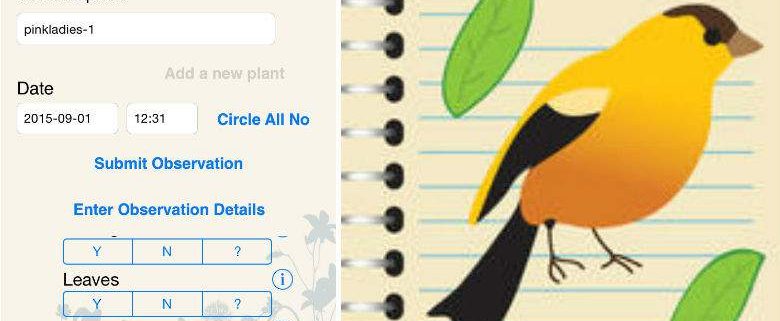 Become part of Nature's Notebook, a platform from the National Phenology Network
Are you looking for a meaningful project? Does becoming a citizen scientist intrigue you? Want to learn a 21st-century tool that connects naturalists?
Nature's Notebook is the National Phenology Network's (USA NPN) online program and platform through which amateur and professional naturalists regularly record observations of plants and animals to generate long-term data sets used for scientific discovery and decision-making. As a citizen scientist, you can become a part of the community of observers by downloading the app (IOS or Android) and signing up for a campaign, such as Flowers for Bats, Shady Invaders, and others relevant to naturalist work in Virginia.
You can also start your own project and become certified!
If you just want to get your feet wet, or find materials for your classroom, NPN offers free, sharable resources.
Take a systems view and broaden your understanding of the network effect
As naturalists, we know that phenology (the study of periodic plant and animal lifecycle events and how they are influenced by seasonal variations in climate and habitat factors) is nature's calendar—when dogwood trees bloom, when an eagle builds its nest, and when leaves turn color in the fall.
Phenologists take a systems view of the natural world. According to the National Phenology Network (USA NPN): "Many birds time their nesting so that eggs hatch when insects are available to feed nestlings. Likewise, insect emergence is often synchronized with leaf out in host plants. For people, earlier flowering means earlier allergies. Farmers and gardeners need to know the schedule of plant and insect development to decide when to apply fertilizers and pesticides and when to plant to avoid frosts. Phenology influences the abundance and distribution of organisms, ecosystem services, food webs, and global cycles of water and carbon. In turn, phenology may be altered by changes in temperature and precipitation."
https://fairfaxmasternaturalists.org/wp-content/uploads/2018/06/naturesnotebook-app.jpg
440
780
vmnfairfax
https://fairfaxmasternaturalists.org/wp-content/uploads/2017/02/FMN-Logo-300x222-1-300x222.png
vmnfairfax
2018-06-24 12:17:36
2018-06-24 12:17:36
Become part of Nature's Notebook, a platform from the National Phenology Network