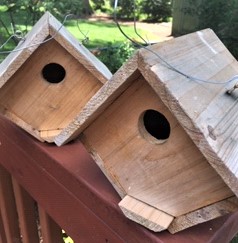 My $20 Dollar Stay-At-Home Ecology Kit
By Michael Walker
This past winter I had a wide variety of birds at my feeder including several charming Carolina wrens. For their size, they often "ruled the roost" and I was interested in having them nest in my yard, so I created some brush piles and bought two small "wren" houses. I was never a Boy Scout skilled at making bird houses and I knew my dad would be disappointed that I did not make the houses myself but being concerned about the loss of a finger on the power saw, I went unpainted pre-fab.
In mid-January, I hung each birdhouse with wire in shrubs about 4 feet above the ground since I read that wrens like to nest "low." They were about 25 feet apart, one in a viburnum and the other in a magnolia. Over time I noticed some black-capped chickadees took an interest in one house and the other bird house was filling up with small sticks though I never seemed to be able to determine what bird was doing this work. I had lots of chickadees and Carolina wrens at the feeder along with cardinals, juncos, tufted titmice, nuthatches, blue jays and even crows. But the tenants of this property remained a mystery despite by best detective work.
As late spring approached, I finally identified the elusive residents of the other house: house wrens! For about two weeks they were very active, shuttling food into the box opening. Despite my best efforts, I never did get to see any of the baby birds. I hope they all fledged safely.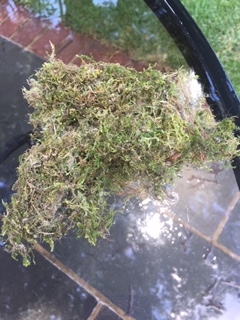 When activity ceased, I decided to clean out each birdhouse in the event another tenant wanted to have a go at family life. Each birdhouse has a convenient slide out base. When I carried each bird house to the table to remove the base, I was astonished to find that both houses were still fully occupied! Dozens of small angry ants were crawling out of the birdhouses onto my hands and arms. In addition to a healthy ant colony the chickadee birdhouse was filled with beautiful soft green moss. It looked like the moss one would find on the forest floor in Canada. No twigs or straw only this beautiful moss and lots of it for such a tiny bird couple to gather.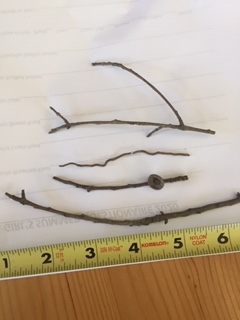 The vacant wren house, also loaded with thousands of ants, had no moss but was filled nearly to the top with twigs and feathers. After the ants made their frenzied escape, carrying away eggs and larvae, I pulled apart the nesting material to do a citizen science inventory of the sticks and twigs. There were over 460 sticks and twigs. Some as long as six inches
An enviable magic trick for a tiny bird, small nest box opening and no exterior perch! Of additional interest were the more than 50 feathers, some pure white, others black that were obviously not house wren feathers.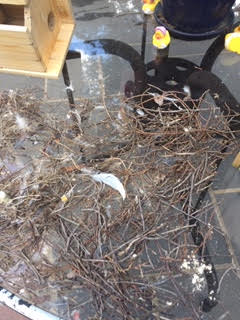 And the ants! To get into the bird houses they had to climb up the branches of the shrub and carefully navigate a Wallenda-like high-wire into the nest box. Which ant explorer looked up from the dirt to see the empty bird house hanging in the air, beckoning exploration like we see with the moon or mars. Which ant pioneer was the first to cross the thin wire? How do they find their way up the tree without Google maps? How many individual trips did each ant make from ground to nest during the duration of the colony? And what could we learn from the altruism that guides the cooperative spirit of these tiny relics from the Cretaceous?
Much, much to ponder on a summer evening on day 108 of the 2020 pandemic!
https://fairfaxmasternaturalists.org/wp-content/uploads/2020/06/houses.jpg
243
238
Jerry Nissley
https://fairfaxmasternaturalists.org/wp-content/uploads/2023/08/VMN-Fairfax-cmyk_w223h156.jpg
Jerry Nissley
2020-06-30 10:27:55
2020-06-30 10:27:56
My $20 Dollar Stay-At-Home Ecology Kit