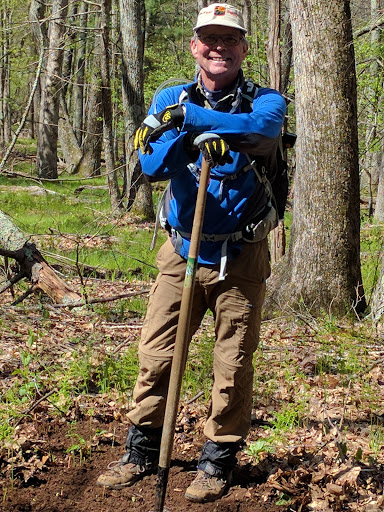 Hitting the trails is the first of many volunteer activities Scott Schroth got involved with when becoming a Virginia Master Naturalist. Scott, a recently certified Virginia Master Naturalist (2019 – Fairfax) hit the trails feet first with shovel and saw in hand. I emphasize 'feet first' because one of his primary engagements is with the Potomac Appalachian Trail Club (PATC), an organization that maintains 240 miles of the Appalachian Trail (AT) and hundreds of miles of other trails throughout Pennsylvania, Maryland, West Virginia, Virginia and DC. Scott is active in trail maintenance and trail patrol at locations such as Massanutten, Sky Meadows State Park, and Shenandoah National Park. Trail Maintenance is restoration for the purpose of hiker safety that includes trail blazing/marking, clipping, and the construction of rolling grade dips. During Trail Patrol, Scott is there to help hikers and backpackers enjoy the AT experience in a responsible manner by providing trail information and general assistance as needed. The patrol also provides a valuable 'eyes on the ground' service by reporting trail conditions to Trail Restoration crews.
In addition, Scott is very active at Fairfax County's Riverbend Park and Scott's Run Nature Preserve. Both parks are managed by Riverbend staff and there are copious volunteer opportunities at each. Scott credits the friendly and highly qualified Riverbend park staff with making it easy to get involved with the diverse set of opportunities at each park. Scott particularly enjoys citizen science opportunities such as wildflower surveys, native grass seed collection, and the Adopt-a-Spot program. His recent recognition as Riverbend's volunteer of the month (August 2020) attests to his high energy focus at Scott's Run. He participated in several invasive removal and habitat restoration projects and led watershed cleanup activities over the summer.
It is wonderful to hear the enthusiasm in Scott's voice as he talks about the many service activities he is involved with and the resources available via the VMN organization. It's even more wonderful to sense the enjoyment he receives by volunteering and to see the results of his work in areas of need within our local and national parks. Thank you, Scott, for the immediate impact you have had and thank you to all the VMN volunteers that care about and contribute to sustaining our natural resources.
To get involved as a volunteer at River Bend and/or Scott's Run please contact volunteer coordinator Valeria Espinoza at [email protected]
To get involved as a PATC volunteer, visit www.patc.net and contact a representative listed for your location and area of interest.
https://fairfaxmasternaturalists.org/wp-content/uploads/2020/09/DSC_0020-scaled.jpg
1702
2560
Jerry Nissley
https://fairfaxmasternaturalists.org/wp-content/uploads/2023/08/VMN-Fairfax-cmyk_w223h156.jpg
Jerry Nissley
2020-10-01 23:09:55
2020-10-02 01:45:59
Let's Hit the Trails