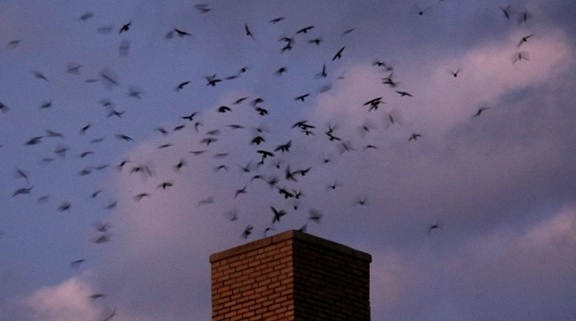 State of the Birds 2022 in Northern Virginia, Audubon Society of Northern Virginia
Photo: Chimney Swifts, Gen Cvengros, Audubon Photography Awards
Following a 2019 report that we have lost 3 billion birds in 50 years in the United States and Canada, the national State of the Birds Report 2022 (released on October 12, 2022) shows that birds are declining in every habitat except wetlands, where 30+ years of conservation investment have paid off.
To see the national report, visit StateoftheBirds.org.
Here in northern Virginia, we have also lost many birds. Urban and suburban areas pose special threats to birds, including habitat loss, window and other collisions, and the spread of invasive species, including plants, insect pests, and outdoor cats.
In the face of these losses, there are many things we can do to promote bird conservation. ASNV's Audubon at Home program advises homeowners on replacing invasive plants with natives. In addition, we advise park managers on how to manage parks for breeding birds, especially grasslands and meadows that support declining species such as Eastern Meadowlarks and American Kestrels.
The new State of the Birds report identifies 90 species that have declined more than 50% in the past 50 years. Of those species, five breed in northern Virginia and should be a special focus of conservation efforts here:
Chimney Swift – You can help ASNV protect swifts by 

letting us know

 if you have breeding swifts or a fall roosting congregation.
Wood Thrush and Red-headed Woodpecker – These birds need healthy forests to breed successfully.
Prairie Warbler – This is a species that needs overgrown meadows with Eastern red cedars.
King Rail – This a secretive wetland bird that often breeds in Occoquan Bay National Wildlife Refuge and occasionally in other wetlands nearby.
In addition to these five, our region supports important populations of migrating birds in spring and fall. These birds use small parks and even backyards while traveling on their perilous journeys, so everything we do to improve our local environment can make a big difference!
https://fairfaxmasternaturalists.org/wp-content/uploads/2022/10/Chimney-Swifts_Gen-Cvengros_Audubon-Photography-Awards.jpg
384
576
Mary Ann Bush
https://fairfaxmasternaturalists.org/wp-content/uploads/2017/02/FMN-Logo-300x222-1-300x222.png
Mary Ann Bush
2022-10-12 14:51:19
2022-10-12 15:17:41
State of the Birds 2022 in Northern Virginia, Audubon Society of Northern Virginia