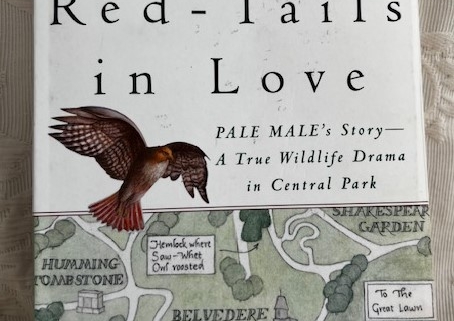 Book Review by FMN Debbie McDonald: Red-Tails in Love: A Wildlife Drama in Central Park, by Marie Winn
Review by FMN Debbie McDonald
Among the wonders of spring, watching the soaring, graceful courtship of red-tail hawks high above the trees has no doubt, brought awe and joy to many of us. Observing love blossom between birds and animals along with the trees and flowers is a ritual and gift that never grows old. Red-Tails in Love by Marie Winn is a true story which follows these rituals in a unique and personal way. It is a beautiful and moving novel that weaves together the lives of Pale Male, a red-tail hawk, and a band of nature loving human friends who watch for him and over him, his mates, nests, and hatchlings through the years.
The author transports the reader to New York City and Central Park where the journeys of the hawks and their human guardians are shared as they pass through many seasons, relationships, and adventures. Activities that resonate with bird watchers and nature lovers, such as the Christmas Bird Count, the spring return of warblers, or spotting a species new to the park add warmth and realism throughout the tale. But Winn's engaging storytelling is appealing for a wide range of readers and interests.
The story of the hawks, what can be learned about them, their loyalty to each other and their little families is quite compelling and rewarding. The band of bird watchers reminded me how lucky we are to have our Virginia Master Naturalist community. This is a book to read more than once and to pass along. Enjoy!
Red-Tails in Love by Marie Winn, 1999, Vintage Departures, 352 pages.
https://fairfaxmasternaturalists.org/wp-content/uploads/2023/04/Book.jpg
606
454
Janet Quinn
https://fairfaxmasternaturalists.org/wp-content/uploads/2017/02/FMN-Logo-300x222-1-300x222.png
Janet Quinn
2023-04-14 06:42:02
2023-04-26 10:13:23
Book Review by FMN Debbie McDonald: Red-Tails in Love: A Wildlife Drama in Central Park, by Marie Winn