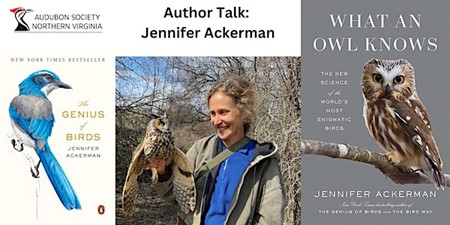 Author Talk: "What an Owl Knows" with Jennifer Ackerman, October 19th
Image: Courtesy of the Audubon Society of Northern Virginia
Thursday, October 19, 2023
7:00 PM – 8:00 PM
Virtual, hosted by Audubon Society of Northern Virginia
Fee: Members $25 (Non-members–$350
For millennia, owls have captivated and intrigued us. With their forward gaze and quiet flight, owls are often a symbol of wisdom, knowledge, and foresight. But what does an owl really know? And what do we really know about owls? Though our fascination goes back centuries, scientists only have recently begun to understand in detail the complex nature of these extraordinary birds.
Join Jennifer Ackerman, author of The Genius of Birds, for an author talk about her latest book, in which she illuminates the rich biology and natural history of owls and reveals remarkable new scientific discoveries about their brains and behavior. What an Owl Knows is a fascinating exploration of owls across the globe and through human history, including an account of their astonishing hunting skills, communication, and sensory prowess.
Jennifer Ackerman has been writing about science and nature for almost three decades. Her New York Times bestseller, The Genius of Birds, has been translated into 25 languages and was named one of the best nonfiction books of 2016 by The Wall Street Journal, a Best Science Book by National Public Radio's "Science Friday", and a Nature Book of the Year by the London Sunday Times. Her other books include Birds by the Shore: Observing the Natural Life of the Atlantic Coast (2019 reissue by Penguin Press of her first book, Notes from the Shore), Sex Sleep Eat Drink Dream: A Day in the Life of Your Body, and Chance in the House of Fate: A Natural History of Heredity. Ackerman's articles and essays have appeared in National Geographic, The New York Times Magazine, Scientific American, and many other publications. She is the recipient of numerous awards and fellowships, including a National Endowment for the Arts Literature Fellowship in Nonfiction, a Bunting Fellowship, and a grant from the Alfred P. Sloan Foundation.
https://fairfaxmasternaturalists.org/wp-content/uploads/2023/09/Author-Talk_Jennifer-Ackerman_.jpg
225
450
Mary Ann Bush
https://fairfaxmasternaturalists.org/wp-content/uploads/2023/08/VMN-Fairfax-cmyk_w223h156.jpg
Mary Ann Bush
2023-10-10 16:59:50
2023-10-10 16:59:50
Author Talk: "What an Owl Knows" with Jennifer Ackerman, October 19th