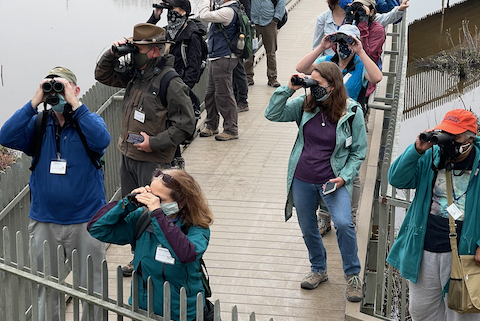 Photo: Ron Grimes
By Julie Shaw, Spring 2021 Graduate
The Fairfax Chapter Master Naturalist training program saved me from the grim claustrophobia brought on by the pandemic in the winter and spring of 2021.
While avoiding the news in December 2020, I came across a notice about the training in the Fairfax Master Naturalist Newsletter and I jumped at the chance to apply. So did a lot of other people: The spring 2021 training had more than 50 applicants for 20 slots.
I was lucky to make the cut, and it was just what the doctor ordered. I work—now from home—at a day job in communications for an environmental organization, but that job mostly takes place behind a computer. I do not frequently get the kind of connection with nature, or with people, that I find most meaningful. And with degrees in English literature and journalism, I have a lot to learn about nature and how to help it.
Our trainee cohort came from diverse backgrounds. Some studied or have degrees in nature-related fields. Some have served in the military or government. Our group also included young people just starting out in their careers (one is a high school student), parents planning to spend treasured free time to educate their children and others about nature, and retirees eager to use their energy and experience to support local ecosystems and wildlife. The class also incorporated participants from the spring 2020 Master Naturalist training who were completing a pandemic-interrupted education.
For the volunteers who organize the training, the switch from in-person to online meetings brought some minor difficulties — from just getting people into the Zoom session to getting presentations to display correctly. But the sessions were relatively smooth since many people have become accustomed to Zoom.
Members of our class did miss out on some of the bonding that in-person training sessions can facilitate and, perhaps more importantly, the associated snack-time tradition. But we were fantastically fortunate when it came to weather for our field trips (although several of us used our cars as warming shelters during the surprisingly cold May 1 visit to Mason Neck Wildlife Refuge and State Park). And we benefited greatly from the efforts of an impressive team of volunteers and presenters who delivered a well-oiled and engaging program.
Reviews from my fellow trainees for the program have been overwhelmingly enthusiastic. And while our experience has been colored by the pandemic, what we're taking away from the training will likely have a much more enduring and positive impact on our lives.
NOTE: More helpers are always needed for the training program. Contact Lori Scheibe at [email protected] to volunteer.
https://fairfaxmasternaturalists.org/wp-content/uploads/2021/07/IMG_3377.jpeg
640
480
Janet Quinn
https://fairfaxmasternaturalists.org/wp-content/uploads/2023/08/VMN-Fairfax-cmyk_w223h156.jpg
Janet Quinn
2021-07-10 22:02:27
2021-07-10 22:02:28
One antidote to a pandemic: Training to be a master naturalist