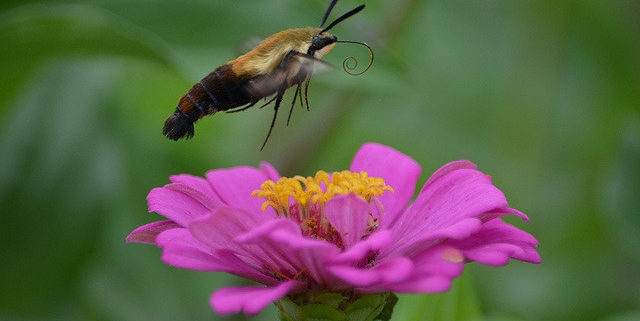 Great winter gardening lectures at Green Spring
Photo: (c) Barbara J. Saffir
WINTER LECTURE-IDEAS FROM EUROPE FOR U.S. GARDENS
(Adult) Winter is the perfect time to plan improvements to our gardens. Garden designer and international traveler Carolyn Mullet shares design images from her European garden travels that we can adapt and use for our own garden designs. Carolyn will show us how we can modify these "foreign" inspirations, both fun and functional, and how to find inspiration of our own.
WINTER LECTURE-PUSHING LIMITS OF TROPICAL PLANTS
(Adult) Botanist and plant breeder John Boggan grows and writes about hardy palms, bananas, begonias, gesneriads, and just about anything else that's tropical or exotic to the DC area. John shares his experience and trials of growing these beautiful tropicals and how you can have success pushing the growing zones.
WINTER LECTURE-ROSE CARE 101
(Adults) Learn the fundamentals for selecting and growing fabulous roses. Lewis Ginter Botanic Garden horticulturalist Laurie McMinn will introduce you to old family heirloom roses as well as many new roses that may become your favorites! Laurie shares the essentials of rose care and beyond, including pruning for spring plant health, nurturing great blooms, and identifying pests and diseases. Your roses will thank you.
WINTER LECTURE-SELECTING AND PLANTING TREES
(Adult) Trees are the keystone plants of a garden. With careful selection and proper planting, they can thrive with minimal care, rewarding us with beauty, shade, energy savings, and wildlife habitat. National Arboretum Head of Horticulture Scott Aker turns us into smarter consumers and gardeners as he illustrates how trees are marketed to homeowners. He offers, tips on proper planting techniques, and demonstrates a quick and easy way to determine a tree's health. Learn about trees that are well-adapted to our area and that Scott recommends to homeowners.
WINTER LECTURE-THE GARDENS OF PIET OUDOLF
(Adult) Join the Friends of Green Spring in viewing the documentary, Five Seasons: The Gardens of Piet Oudolf. This documentary immerses viewers in Oudolf's work and takes us inside his creative process, from his beautifully abstract sketches, to theories on beauty, to the ecological implications of his ideas. Discussion to follow.
WINTER LECTURE-UNCOMMON CUT FLOWER
(Adults) Make the most of your gardening efforts by growing plants that are beautiful outside and inside as cut flowers and fillers. Horticulturalist Karen Rexrode shares some favorite plants that are both beautiful ornamental garden plants and unusual cut flowers. These lovely arrangements exercise your creativity, give you confidence in plant combinations and allow you to appreciate individual plants details.
WINTER LECTURE-VEGETABLES LOVE FLOWERS
(Adults) Learn how to grow an organic garden where good bugs eat bad bugs, pollinators are abundant and the beautiful bouquet on the table came from your garden! Flower Farmer Lisa Ziegler tells all as she shares why flowers are the missing piece in many vegetable gardens as they attract pollinators, beneficial insects and other good creatures to complete the circle of life. Learn how to garden without using any pesticides that can harm and kill the very beneficial creatures we want to live in the garden.
WINTER LECTURE-WHAT'S BUGGING YOU?
(Adults) What was that insect I saw in the garden last summer? Why didn't I see many butterflies last summer? How can I have more fireflies in my backyard? Bring your bug questions and stories to this mid-winter information exchange about insects. Join entomologist Nate Erwin for a colorful slide show of insects and their associated plants and then join a lively discussion about those spineless creatures that do so much for and in our gardens.
https://fairfaxmasternaturalists.org/wp-content/uploads/2018/09/HummMoth.jpg
424
640
vmnfairfax
https://fairfaxmasternaturalists.org/wp-content/uploads/2017/02/FMN-Logo-300x222-1-300x222.png
vmnfairfax
2018-12-29 03:43:05
2018-12-29 03:43:18
Great winter gardening lectures at Green Spring