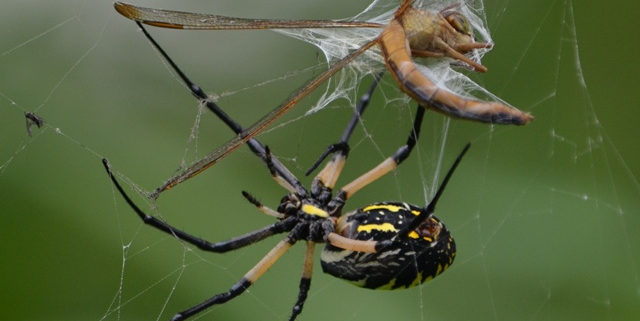 Virginia Working Landscapes 2018 Biodiversity Survey Results
The central mission of Virginia Working Landscapes (VWL) is to promote sustainable land use and the conservation of native biodiversity through research, education, and community engagement. First assembled at the Smithsonian Conservation Biology Institute: Front Royal, VA in 2010, VWL was formed at the behest of regional landowners, citizen scientists, and conservation organizations who wanted to better understand how to conserve Northern Virginia's native wildlife on working (i.e., agricultural/forestry) lands. 
According to The International Union for Conservation of Nature, grasslands are "the most endangered, the most altered, and the least protected biome on the planet." Today, many plants and animals that depend on grasslands have declined, due primarily to the loss or fragmentation of their native habitat and one-third of North American species considered endangered are found on grasslands. Recognizing the need to consider grassland species when studying native flora and fauna on working landscapes, VWL's initial research focused on grasslands. Since 2010, they have expanded our focus to other working lands (forests) and to consider the impact that changes in the overall landscape mosaic have on native biodiversity. 
VWL partners with scientists, graduate students, interns, and volunteer citizen scientists to organize and conduct annual biodiversity surveys on public and private lands throughout the region. This work is important because humans receive many tangible and intangible benefits from the natural world — from the spiritual (a walk through nature) to the utilitarian (the value of food production). 
Research prioritizes studies of biodiversity, threatened species, and ecosystem services to answer such questions as: 
How will current land-use practices (and projected changes thereto) impact grassland biodiversity? 
How are ecosystem services, like pollination, related to species presence or native biodiversity? 
Are quail Habitat Management Areas effective at restoring bobwhite populations? How might they be improved? 
Does arthropod community composition or nutritional value differ in cool- vs warm-season grass fields? What are the implications of this difference for birds or other insect-eating animals? 
What impact does field management timing have on overwintering bird or insect diversity? 
How does the establishment or maintenance of native grasses impact plant communities?
To this end, VWL conducts six surveys on breeding birds, bumble bees, grasslands, orchids, mammals, soil, and arthropods.
Each year, VWL and SCBI train a group of citizen scientists to conduct these surveys on private and public lands and recruit private landowners who enable us to collect these data on their property. FMN supports this work and you can claim service hours for your participation (C200: Citizen Science Projects for the Smithsonian Conservation Biology Institute).
For more information, please contact Outreach Coordinator, Charlotte Lorick, at 540-635-0038, visit www.vaworkinglandscapes.org), or find VWL on Facebook & Instagram. 
This specific report is on the survey results for The Clifton Institute. Reports for other sites are available from VWL.
https://fairfaxmasternaturalists.org/wp-content/uploads/2018/09/SpiderPrey.jpg
427
640
vmnfairfax
https://fairfaxmasternaturalists.org/wp-content/uploads/2023/08/VMN-Fairfax-cmyk_w223h156.jpg
vmnfairfax
2018-12-25 03:33:17
2019-01-15 19:00:47
Virginia Working Landscapes 2018 Biodiversity Survey Results