Ladies and gentlemen, meet Harriet
Marilyn Kupetz
So the bare facts are these: Harriet is a wood turtle (Glyptemys insculpta) who lives in a terrarium at Riverbend Park. Roughly 10 inches long beak to tail, she has the brown eyes of a female and "a rough carapace and pyramid-like raised scutes" (Abugattas, 2017, p. 42). She's of a certain age, but what that is exactly is unknown given that rescued reptiles don't come with chips.
Unlike her box turtle peers—Romeo, Tortuga, Pumpkin, and Tojo—Harriet has all of her limbs. She certainly has all of her faculties. Each Thursday morning, when I come to take care of her, she peers up at me from her swimming basin, registers that I'm the behemoth who brings her strawberries, and crawls onto her landing stone to be lifted out, fed, and taken for a walk. After 6 months of this routine, we're pals. I am lucky to have the privilege of learning about turtles from Harriet.
Although she knows what she wants, Harriet ambles to get it. While gazing at the back of this creature thus frequently at rest, I realized that turtle shells exhibit the Voronoi tessellations that, for example, Pixar uses to design scales for their digitally animated reptiles. 
Imagine two bubbles, or drops or water, or globs of tadpole eggs. When these masses are separate, they are more or less spherical, right? But when they come in contact with one another, their edges form planes and the geometrical shapes typical of the scales or bony plates covering dinosaurs and dragons. And turtles.
Biologists use Voronoi patterns to model cells. The tessellations help scientists understand what happens when cells multiply rapidly, making it possible to visualize cellular behavior so that, for example, doctors can treat illnesses.
Wikipedia reports that ecologists also use Voronoi patterns "to study the growth patterns of forests and forest canopies" and to develop "predictive models for forest fires." An interesting conceptual shift from micro (cells) to macro (woodland systems).
Who knew that an elderly wood turtle could be such a good gateway to information about the natural world for curious citizen scientists?
Harriet doesn't just stimulate learning, however. She and her kin offer volunteers a rare type of emotional connection: They show us that they appreciate the attention we give them. How do we know? By observing their uplifted heads as they sun, their ever enthusiastic consumption of fresh fruit and worms, and, yes, their gift of uninhibited deposits as they bathe.
They also enable us to work with other volunteers who, like philosopher Peter Singer, have come "to be persuaded that animals should be treated as independent sentient beings, not as means to human ends." The Riverbend creatures cannot, alas, return to the wild—they were rescued from danger or abuse and are now dependent on human kindness. But those of us who care for them care about them.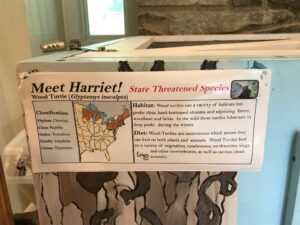 Every 6 months, Riverbend's Senior Interpreter Rita Peralta and Volunteer Coordinator Valeria Espinosa invite additional volunteers to help attend to not only Harriet and the box turtles, but also the snakes, frogs, and fish living in the Riverbend Visitor and Nature Centers. The always-welcoming Riverbend staff offer training sessions, flexible scheduling, and, best, the chance to nurture, learn from, and teach visitors about the gentle beings inhabiting the wild places that still remain to us in Fairfax County.
Questions: Ask Jordan Libera [email protected]  or Rita Peralta [email protected].
Questions from the perspective of a volunteer? Feel free to ask me anything.
FMN volunteers get credit for volunteering under Service Code: S182: FCPA Nature Center Animal Care
Reference
Abugattas, A. (2017). The reptiles and amphibians of the Washington, DC metropolitan area. Self-published. Contact author.
https://fairfaxmasternaturalists.org/wp-content/uploads/2019/09/IMG_0973-e1567789446782.jpg
375
500
vmnfairfax
https://fairfaxmasternaturalists.org/wp-content/uploads/2023/08/VMN-Fairfax-cmyk_w223h156.jpg
vmnfairfax
2019-09-06 17:17:09
2020-12-20 18:21:17
Ladies and gentlemen, meet Harriet