Are You Really Sure You Want to Water Your Plants From the Tap?
Author: Anna Gershenson
Some plants may benefit from chlorinated water, due to its ability to kill unwanted bugs or microbes in the soil. However, chlorine is actually toxic and harmful to plant growth in high concentrations. It injures the plants' roots and accumulates in the leaf tissue, causing enduring damage.
So, how much chlorine is too much chlorine? And what can we do about it given that most people water their gardens and houseplants straight from the tap, and the tap water in Virginia contains small amounts of chlorine? I have a tip for you based on research that I performed in school.
As a freshman at Fairfax High School, I participated in the school's Science Fair for my Honors Biology class. For our project, my partner and I designed a project to test the effect of chlorine on Wisconsin Fast Plants, a type of Brassica rapa plant, developed by the University of Wisconsin as a research tool.
We grew four groups of the Wisconsin Fast Plants, from the seeds, and fed each group natural spring water with different amounts of chlorine mixed in. The first group received the water without chlorine (this was known as the control group). We watered the second group with a mixture of water and one teaspoon of chlorine, the third with 2 teaspoons of chlorine mixed with water, and the fourth with 3 teaspoons (1 tablespoon) and water. My partner and I used powdered chlorine, so before we gave each plant the mixture, we let the chlorine fully dissolve in the water. We watered the plants every two days and measured their heights during those days. We studied the plants for two weeks.
The results were significant. The images below represent the four plant groups at the end of the two weeks.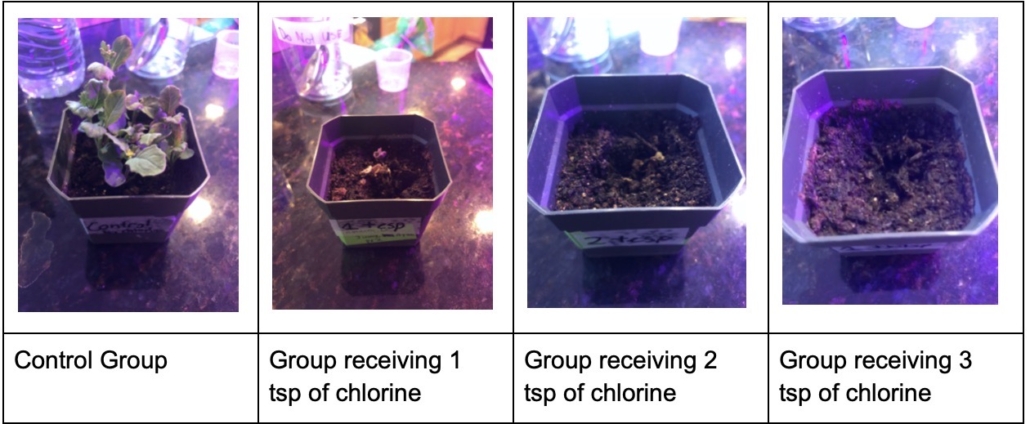 As you can see, the group that did not receive the chlorinated water grew the most and looked very healthy. The average final height for the plants in that group was about 5.10 centimeters.
The plants that received 1 teaspoon of chlorine grew a little bit, but looked unhealthy. The plants looked more brown than did the healthy plant. Their final average height was 1.50 centimeters.
A small plant sprouted in the pot that got 2 teaspoons of chlorine,, but it did not grow as much as did the previous two. That group's final height was about 1.00 centimeter.
And finally, the plants that received 3 teaspoons of chlorine barely grew. Though it is difficult to see the plant, the calculated height of that group was about 0.50 centimeters.
It was clear that even 1 teaspoon of chlorine stunts the growth of plants and makes them lose pigment.
Now, you might be wondering: "What can we do to solve this problem? Buying natural spring water costs extra."
Don't worry, I have the perfect solution for you!
My mom actually familiarized me with this technique. She enjoys working in our garden and knows all sorts of tricks. When I decided to grow a vine plant in my room, my mom suggested that rather than watering them with tap water fresh out of the faucet, to begin by pouring the tap water into a plastic cup and letting it sit a couple of hours before watering the plant. Letting the water wait enables all of the chlorine to evaporate, clearing it and making it healthy and safe for the plants.
I did the controlled research to validate her advice. You don't have to subject your plants to extra chlorine, but you can see if letting the chlorine evaporate helps your house plants and garden do better. Enjoy watering your plants chlorine-free!
Anna Gershenson is a rising senior at Fairfax High School.
This post is part of the series Creative Counsel from Students in the Time of COVID-19. Do you know students with research to report on the natural world? Encourage them to direct their proposals to vmnfai[email protected] after reading the instructions in the link above.
https://fairfaxmasternaturalists.org/wp-content/uploads/2020/06/Screen-Shot-2020-06-21-at-3.25.00-PM-e1592769433767.jpeg
375
500
vmnfairfax
https://fairfaxmasternaturalists.org/wp-content/uploads/2023/08/VMN-Fairfax-cmyk_w223h156.jpg
vmnfairfax
2020-06-21 20:18:52
2020-06-26 22:31:23
Are You Really Sure You Want to Water Your Plants From the Tap?