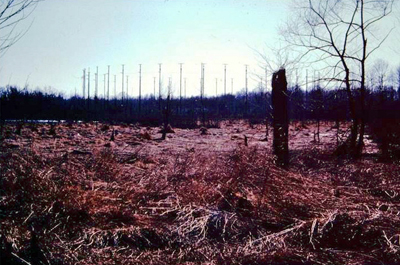 Secrets, Spies, Sputnik and Huntley, February 28th
This double ring of antennae was the first U.S. tracking station to compile data on the path of the Russian satellite Sputnik just five hours after its launch. 
Photo courtesy of Fairfax County Park Authority
When: Monday, 2/28/2022 2:00 pm
3701 Lockheed Blvd.
Alexandria, VA,
Map of Huntley Meadows Park
Cost: $12.00
Click here for more information or call 703-768-2525.
Event Description:
Huntley Meadows Park is home to a nationally significant historic house, majestic forests, wildflower-speckled meadows and vast wetlands bursting with life. Some of the best wildlife watching in the Washington metropolitan area is here.  The Park we know and love today does have an intriguing history.
Take a stroll through the less-visited side of Huntley Meadows Park to uncover the history of spies, espionage and how the Cold War struggle between the US and the USSR shaped Huntley and the Fairfax County we know today. The program at Huntley Meadows Park runs from 2 to 4 p.m. The cost is $12 per person. Meet at the South Kings Highway entrance. The program includes a 2.4-mile walk over flat terrain.
https://fairfaxmasternaturalists.org/wp-content/uploads/2022/01/HM-History-Aerials-6A-Remnants-V2.jpg
265
400
Mary Ann Bush
https://fairfaxmasternaturalists.org/wp-content/uploads/2017/02/FMN-Logo-300x222-1-300x222.png
Mary Ann Bush
2022-01-28 18:20:06
2022-01-31 20:22:58
Secrets, Spies, Sputnik and Huntley, February 28th