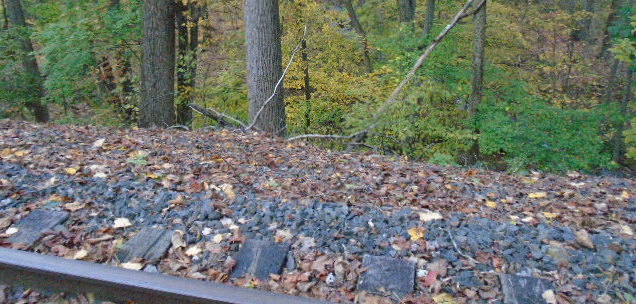 Geology Adventures: Man-Made Slag
Feature photo:  Slag Nuggets line this railroad track near Willoughby Brook, High Bridge, NJ
Article and photos by FMN Stephen Tzikas
Not too far from Fairfax County is geologic treasure. Engineers love it. It is a by-product of iron ore smelting, one of the oldest chemical engineering processes. The by-product is called slag and it is unique and beautiful.
A few years ago I stopped at the Burden Iron Works in Troy, NY on my way to Rensselaer Polytechnic Institute (RPI) for Reunion and Homecoming not far from the iron works. The iron works are not a big tourist attraction, so I had to call the curator for an appointment. The meeting I had with curator was just grand. We talked at least a couple hours on the engineering history of the area which included RPI. Before leaving he took me outside to walk the perimeter of the iron works
and told me about slag. Slag is the rock remaining after iron is extracted from the ore. The property and surrounding area has some slag scattered around. He told me it can usually be found easily along a building perimeter because that's where it's thrown by ground keepers who cut grass and don't like hitting it with the mowers. He gave me a few pieces of the century-plus old slag and I finally departed.
Later, at the Jonsson-Rowland Science Center building at RPI, while looking at the geologic collection located there, a graduate student came out of his research lab and I struck up a conversation with him on the Burden Iron Works. He quickly went back into his lab to pull out a slag sample from the iron works in which some residue ore in a large slag sample formed a colorful blue glass mix with the ore. Impressed, I have ever since included old iron furnace stops on my road trips. If you keep in mind that slag samples are likely to be located along perimeter building ruins, you'll find interesting nuggets. One especially pleasing location is the Lock Ridge Furnace Museum if you are passing through the Allentown, PA area. There are literally thousands of slag samples all over the grounds. It is much rarer to find slag samples with colorful shades of glass in them, but if you are curious, do a google image search on "colored iron slag" to see what I mean. Some slag samples can also be magnetic, and the color of a slag sample is due to the different mixes of elements and leftover metals in it.
Iron smelting was a big industry in the 18th and 19th century America, and you can usually find industrial furnace ruins from that period everywhere that had settlements. My stops at old furnaces usually take me through Pennsylvania on my trips to NJ and NY. However, we have local furnace ruins too. One nearby is the Catoctin Furnace in Thurmont, MD. This is a 19th century iron works and the website can be found at https://catoctinfurnace.org/village/
Slag samples could appear in a variety of other places too. The iron industry of yesteryear produced so much slag waste, the industry found uses for it. Iron ore slag is generally safe. It is just ore rock with the iron removed. While hiking in High Bridge, NJ one day, I came across large amounts of it lining the railroad tracks (along Buffalo Hollow Road near Willoughby Brook, and just off of Cregar Road). The slag made a suitable material cushioning the track area from the extended environment. Normally, one might see other forms of crushed stone gravel around railroad tracks. If you come across railroad tracks in your nature trail excursions, take a look at whether the tracks have stone ballast in the track bed, and whether it is slag.
If I have interested you to build a slag collection, please be aware that some parks might have rules requiring visitors not to remove anything from a site. Such rules, if they exist, are usually posted so visitors know. Now that you are aware, keep your eyes open for interesting geology on the ground at old furnace ruins.
https://fairfaxmasternaturalists.org/wp-content/uploads/2022/05/High-Bridge-NJ-1.jpg
304
636
Janet Quinn
https://fairfaxmasternaturalists.org/wp-content/uploads/2023/08/VMN-Fairfax-cmyk_w223h156.jpg
Janet Quinn
2022-05-24 20:17:18
2022-05-24 20:29:58
Geology Adventures: Man-Made Slag