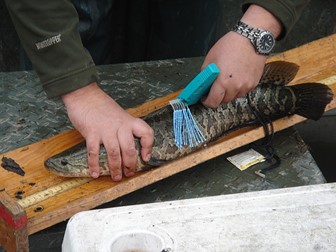 Protecting the Chesapeake from aquatic invaders
This article and the accompanying photos are reproduced with permission from the Chesapeake Bay Journal.
Across the nation, invasive, nonnative plants and animals are becoming a larger threat to our waterways. And the Chesapeake Bay watershed is not immune.
These unwelcomed species didn't just show up on their own. Most were introduced, either intentionally or accidently, by people. The possibility of these species multiplying in our waters — and eating, displacing or infecting native aquatic life — is a real concern to natural resources managers and citizens.
All living things have evolved to thrive in specific places on Earth. Local climate, geology, soil, available water, nutrients and food all determine which plants and animals can live in a particular ecosystem.
Species that have evolved in a particular place are considered native; those that arrive from elsewhere are considered nonnative — but are not necessarily invasive. That distinction belongs to plants and animals that threaten native species, often by crowding them out or establishing themselves more quickly in disturbed land, in the case of plants, or outcompeting them for food, in the case of animals.
Invasives may also have an advantage over natives because of a lack of natural controls, such as predators or disease. Conversely, invasive herbivores and carnivores may eat native species, and invasive plants could introduce a disease deadly to natives.
Invasive species damage natural systems by disrupting the intricate web of life for native plants, animals and microorganisms, including those that are rare or close to extinction. Once invasives have consumed all of the food sources or destroyed the habitat for other wildlife, they move on to the next suitable site.
They are often spread — unknowingly — by people while boating, fishing or taking part in other recreational activities. Invasive "hitchhikers" attach to boat bottoms, motors and other items, then are transported to new waterways.
Dumping unwanted aquarium fish and plants and releasing unused live bait are another way they are introduced.
Other invaders arrive in the discharged ballast water of ships arriving from all over the world.
Invasives, like the zebra mussel, reproduce and spread quickly, wreaking havoc on native wildlife, ruining boat engines and large water-intake systems, and making lakes and rivers unusable for boaters and swimmers.
Another infamous invader is the nutria, a voracious, almost beaver size, rodent native to South America. An aggressive trapping and hunting program has all but eradicated them from the Eastern Shore, where they had chewed their way through marshes, accelerating the loss of thousands of acres of wetlands.
The list goes on. The northern snakehead fish, a native of Asia introduced in 2000, is essentially out of control. Blue and flathead catfish, natives of the Mississippi, Missouri and Ohio river watersheds compete with Bay species for food and habitat. The spotted lanternfly, spreading like wildfire through the region, is killing trees and devastating orchards and vineyards. Purple loosestrife, an invasive wetland plant, was introduced as an ornamental plant in the 1800s and now dominates marshes. Even the seemingly innocent red-eared slider, a semi-aquatic turtle native to the southern and southwestern U.S. — a very popular pet — is invading northerly states because many owners set it free when it outgrows its aquarium.
Once an invasive species has a foothold, the cost — in terms of degraded natural areas, loss of native wildlife or control efforts — can be incalculably high. In addition, other economic resources and lifestyle choices are lost. Recreational activities, such as swimming, fishing, boating, or wildlife-watching are affected, as are the sources of income associated with these activities: the seafood industry, sales of outdoor equipment and clothing, hunting and fishing licenses, guide services, travel and tourism, and service stations for boats and automobiles.
What can you do to prevent the spread of invasive aquatic species? The overarching rule of thumb is this: Never release a plant or animal in an environment if you are not certain where it came from. Bait can come from anywhere, and it is believed that rusty crayfish, a very troublesome invader from the Ohio River watershed, has established itself in the Bay region mostly as discarded bait.
Some organisms are so small you may not even realize they are hitching a ride with you. So it's important to follow this checklist every time you leave any body of water. Examine your boat, trailers, clothing, shoes and gear, then:
Remove any plants, fish or animals.
Remove all mud, dirt and plant fragments. The larvae of an animal, perhaps too tiny to see, can live in mud, dirt, sand and plant fragments.
Eliminate water from equipment before moving it.
Clean and dry anything that was in contact with water (boats, trailers, equipment, clothing) before using it in another waterway.
The Chesapeake Bay Program estimates that approximately 200 invasive species have established themselves in the watershed. To learn about invaders in your area, contact your state's natural resources or environmental protection agency. One of the most comprehensive and user-friendly online resources for invasive species is the USDA's National Invasive Species Information Center, at invasivespeciesinfo.gov.
Kathryn Reshetiloff, a Bay Journal columnist, is with the U.S. Fish and Wildlife Service's Chesapeake Bay Field Office in Annapolis.
https://fairfaxmasternaturalists.org/wp-content/uploads/2022/05/Snakehead-status.jpg
252
336
Mary Ann Bush
https://fairfaxmasternaturalists.org/wp-content/uploads/2017/02/FMN-Logo-300x222-1-300x222.png
Mary Ann Bush
2022-05-02 15:24:25
2022-05-02 15:24:25
Protecting the Chesapeake from aquatic invaders