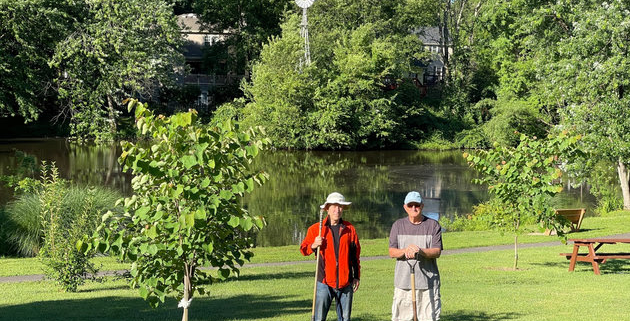 Free Trees for Communities
Article and photo by Plant NOVA Natives
As community associations around Northern Virginia ramp up their native tree planting efforts, they are looking around to find ways to make it affordable. Burke Centre resident Craig Willett has solved that problem for his neighbors: all they have to do is fill out a simple form to get a free tree. A member of Burke Centre Conservancy's volunteer Open Space Committee, Craig has organized a system both for private property and for common land. On private land, residents pick up seedlings from Craig's house and plant them themselves. On common land, the Trustees of the various clusters put in a request, and Craig and his colleagues will install trees or shrubs either to replace ones that have died or to reforest open areas. You can see him pictured here with fellow volunteer Mike Hathaway, in red.
Trees grow slowly, and they also die slowly. Many neighborhoods around Northern Virginia have been losing their canopy coverage, bit by bit, so that once pleasantly shaded yards and streets where neighbors and children could gather are gradually becoming intolerable as our summer temperatures rise. Communities that wish to reverse this trend are most likely to succeed if they build a long-term routine for tree care and tree replacement into their master plans. Where there is no community association, residents will need to step forward to help each other make a plan.
Burke Centre Conservancy obtains its tree seedlings from Fairfax ReLeaf, a non-profit organization of volunteers who plant and preserve native trees on public and common lands in Northern Virginia. Individual landowners may also request seedlings from Fairfax ReLeaf.
Any community in Fairfax County that owns open space may also apply for free trees from the Fairfax Tree Preservation and Planting Fund. It is not necessary to be a 501(c)3 organization to apply as long as the open space is commonly owned. This is a solid funding source for organizations that want to plant either seedlings or larger trees. The application process looks a little intimidating at first glance because of the long list of requirements, but in fact the required steps are all ones that any organization would take anyway when planting trees.
Programs for obtaining free native trees are also available to communities in Arlington and Falls Church. And although not free, there are numerous ways to obtain native trees for a very low price. For example, the Virginia Department of Forestry sells tree and shrub seedlings for $2.00 apiece for orders of ten or more. Our local native plant garden centers all sell medium-sized trees in containers at reasonable prices. Those trees may look a little small when first planted, but they will rapidly catch up to trees that were planted when larger, since older trees suffer more transplant shock. Two wholesalers of larger trees offer their trees at wholesale cost to people who are organizing community plantings. Links to all these programs can be found on the Plant NOVA Trees website.
Since 2018, Burke Centre Conservancy has planted over 600 bare root seedlings, which is in keeping with the nature-centered philosophy of this community with its extensive network of trails through the woods. More details about their process can be found on this web page.
https://fairfaxmasternaturalists.org/wp-content/uploads/2022/07/unnamed.jpg
472
630
Janet Quinn
https://fairfaxmasternaturalists.org/wp-content/uploads/2023/08/VMN-Fairfax-cmyk_w223h156.jpg
Janet Quinn
2022-07-16 13:41:08
2022-07-16 13:41:08
Free Trees for Communities