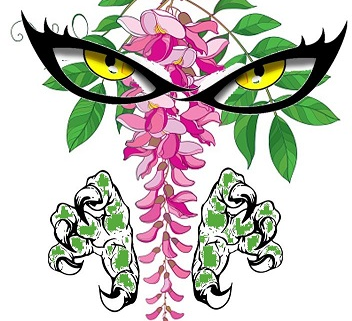 Anti-Wisteria Expedition, October 31st
Image: courtesy of the Friends of Accotink Creek, Chinese Wisteria
October 31, 2022
9:30AM – 11:30AM
Accotink Gorge
Meet at treeline BEHIND
Dos Amigos Restaurant
7375 Boston Blvd
Springfield, VA 22153
Click here for more information and sign-up details.
THIS HALLOWEEN, BE PART OF THE HORROR SHOW THAT IS THE WISTERIA INFESTATION IN THE ACCOTINK GORGE. SURVIVE IF YOU CAN!
The Accotink Gorge is truly one of the most biodiverse locations, especially given its small size and proximity to development. However, if urgent action to remove Wisteria sinensis (Chinese wisteria) vines which are rapidly killing its canopy trees is not taken soon, all of this will be irrevocably lost. Many beautiful native wildflowers are currently in bloom and the area is teeming with pollinators and birds. It is not too late to save this oasis, but it will be soon.
The Friends of Accotink Creek will lead a workday to reduce the Chinese Wisteria infestation threatening the unique biodiversity found in the Accotink Gorge.
https://fairfaxmasternaturalists.org/wp-content/uploads/2022/09/Friends-of-Accotink-Creek_Chinese-Wisteria10312022-e1663610009656.png
300
282
Mary Ann Bush
https://fairfaxmasternaturalists.org/wp-content/uploads/2023/08/VMN-Fairfax-cmyk_w223h156.jpg
Mary Ann Bush
2022-09-19 13:55:41
2022-09-19 13:55:41
Anti-Wisteria Expedition, October 31st