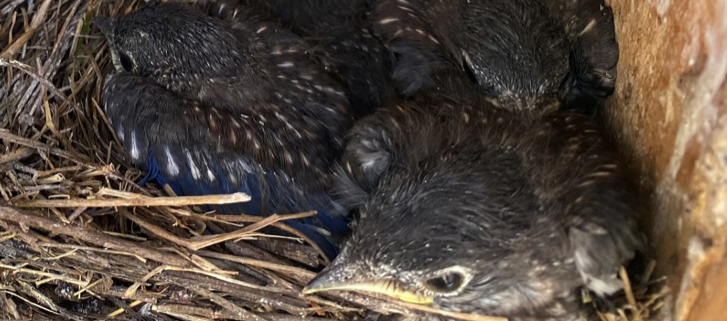 Bluebirds at Langley Fork Park Continue to Thrive
Feature photo: Bluebird nestling residents of Box 6 (May 21, 2022). What are they thinking?
Article and photo by FMN Stephen Tzikas
The 2022 Bluebird box monitoring season at Langley Fork Park in McLean was my second year, and first as its trail leader. The trail leader duties came unexpectedly, but it successfully concluded thanks to the existing and new trail monitors who helped me with this success. Although I wrote an article last year on the extraordinarily successful season at Langley Fork Park, in part due to the cicada bounty, I was pleasantly surprised that this year's Bluebird fledglings approached very close to the number we had last year.
In 2021 we nurtured 63 total protected birds which included 26 Bluebirds. In 2022 we had 57 total protected birds which included 24 Bluebirds. This can be contrasted to the 5 years prior to that in which Langley Fork Park monitoring succeeded with about 40 protected birds per year which included about 5 Bluebirds a year. Since our efforts are on behalf of the Virginia Bluebird Society and the Bluebirds themselves, having about a 5-fold increase in Bluebirds these past couple years was phenomenal.
As trail leader, I had a closer look at the total 7-year record of data at Langley Fork Park in order to determine if any changes in the location of the Bluebird boxes were necessary to increase the effectiveness of the Bluebird program even further at Langley Fork Park. This data is part of the Nest-Watch database administered by Cornell University. I found the record-keeping in the years prior to 2021 to have some gaps, but this did not detract from the large increases recorded for the Bluebirds at the park. Nonetheless, the gaps were an interesting comparison that should not be ignored for a program's quality control. Monitoring in prior years were not always on a weekly cadence, and it was not certain if preventive maintenance was rigorous. While I could infer final fledgling counts on what was recorded, these numbers could have been a bit higher and a good maintenance regimen could have made a nest box habitat resilient for an immediate welcoming of a new set of Bluebird parents during critical times for egg laying. This is contrasted to a strict weekly check on the birds in 2021 and 2022, and immediate attention to issues of concerns: wasp nests, ants, predators. For Bluebird monitors, I can't emphasis enough how important these matters are. Bluebird monitoring trails should have an adequate number of team monitors to keep pace and avoid burdens with scheduling for a trail that has too few monitors.
With this analysis I did have enough data to make some conclusions for future planning. In the past 2 years, 3 of the park's 10 boxes had successful Bluebird nestlings, while in the entire past 7 years, 6 of the 10 boxes were home to successful Bluebird nesting attempts. Considering that Tree Swallows are also a protected bird and the main successful competitor of the Bluebird boxes, our Bluebird attempts are good.   But can we do better? These are decisions for our trail that may help others in their trail decision-making too.
Before the close of the 2022 season, our team suggested that moving boxes 1, 4, 7, 9 might help the Bluebirds, because currently they had some issues with predators and intense competition.
The data showed that boxes 1, 2, 5, and 9 never had Bluebirds.   We also have the opportunity to add an 11th Bluebird box which will be determined at a later date. While boxes 2 and 5 may never have had Bluebirds, they are in good locations and have other active protected birds nesting here. These will not be relocated for now.
Box 1 is in a fairly hidden area. By moving it closer to the parking lot it may get more attention by the Bluebirds.  There is some playground equipment here, but on closer inspection it is for adults to exercise who are not likely to interfere with the box.  The location is more bushy, so it may also attract more House Wrens too.
Box 4 has had occasions of broken eggs from intense competition.  Moving it from the corner of the field to a more bushy area closer to some benches could improve it.
Box 7 may be too close to a tree with snake predators. Moving to a more bushy area a few feet away may help.
Box 9 is in a fairly active area with baseball activity, and relocating it closer to Box 8 may help. The advantage of the new location is that it is slightly less active and has more trees, but it is not necessarily a suggested 100 foot separation from Box 8.
The 2023 season will evaluate these adjustments.
https://fairfaxmasternaturalists.org/wp-content/uploads/2022/09/Untitled.png
346
727
Janet Quinn
https://fairfaxmasternaturalists.org/wp-content/uploads/2023/08/VMN-Fairfax-cmyk_w223h156.jpg
Janet Quinn
2022-09-23 11:32:37
2022-09-23 11:32:37
Bluebirds at Langley Fork Park Continue to Thrive