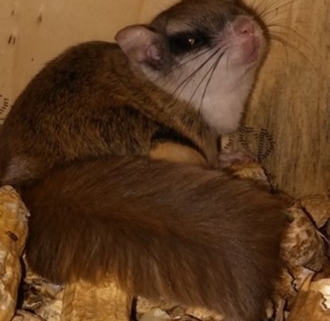 FMN Quarterly Chapter Meeting, Graduation, and Presentation by Award Winning Interpretive Manager and Naturalist Suzanne Holland: December 18 at 7:00 PM
Photo credit: Kim Young,  Southern Flying Squirrels (Glaucomys Volans)
Join us as Naturalist and award-winning Interpretive Manager Suzanne Holland presents on Southern Flying Squirrels (Glaucomys volans) – a native of Virginia. Flying squirrels are technically not fliers, but expert gliders, using the membrane between their ribs and ankles to glide. They can cover 150 feet in a single glide!  After the presentation, we will have an opportunity to observe flying squirrels from their feeding boxes.
Suzanne Holland has served Fairfax County residents for over 30 years and was honored by the County for her outstanding contributions when she retired in November 2022. Suzanne was among the first to broaden engagement to diverse communities and to train others about the importance of nature for children and families. She partnered with the Office for Children for over a decade of "teaching the teacher" programs, leading diverse county preschool teachers on methods of teaching about nature. In addition, as a member of the Mason District Task Force on Equity, Suzanne worked with Hidden Oaks Nature Center staff to create opportunities for equity programming for local Latino and Asian communities.
Among the many awards Suzanne earned over the 30 years at Hidden Oaks, she received the National Association for Interpretation (NAI) S.T.A.R.S. award for outstanding interpretive work, especially in her efforts to educate interpreters for the FCPA.  Other efforts include the creation of Nature Playce (a woodland play area near the Hidden Oaks Nature Center) and the development of monarch butterfly conservation stewardship programming.
Kim Young, FCPS Hidden Oaks' senior interpreter, will join the presentation. Kim has led dozens of flying squirrel presentations for the Park Authority plus a program for the Friends of Dyke Marsh. She is a flying squirrel-whisperer and will share her recommendations of encouraging these charming creatures to visit your backyard feeding station and nesting boxes. We will be raffling off a flying squirrel feeding box after the presentation!
This event will include a potluck dinner: please feel free to bring a dish to share – appetizer, main dish, or dessert.

FMN members can record one CE hour under Continuing Education – FMN: Chapter Meeting Presentations.
Location: Hidden Oaks Nature Center, 7701 Royce Street, Annandale, VA 22003
Hidden Oaks Nature Center Location

Please note: The main parking lot is in Annandale Community Park at the Packard Center, 4022 Hummer Rd.
Upon entering the park from Hummer Road, take the right fork of the driveway and park in the back of the lot adjacent to the Packard Center. Look for the arch into the woods and follow the Storybook Trail to Hidden Oaks Nature Center. This walk is on an ADA- certified paved trail and is about 75 yards. Follow the adventures of woodland creatures as you weave through the woodland to the Nature Center.

More information about Hidden Oaks: https://www.fairfaxcounty.gov/parks/hidden-oaks/on-your-own
https://fairfaxmasternaturalists.org/wp-content/uploads/2023/10/Photo-credit-Kim-Young-Southern-Flying-Squirrels-Glaucomys-Volans.jpg
405
330
Mary Ann Bush
https://fairfaxmasternaturalists.org/wp-content/uploads/2023/08/VMN-Fairfax-cmyk_w223h156.jpg
Mary Ann Bush
2023-10-24 18:49:14
2023-10-24 18:49:14
FMN Quarterly Chapter Meeting, Graduation, and Presentation by Award Winning Interpretive Manager and Naturalist Suzanne Holland: December 18 at 7:00 PM