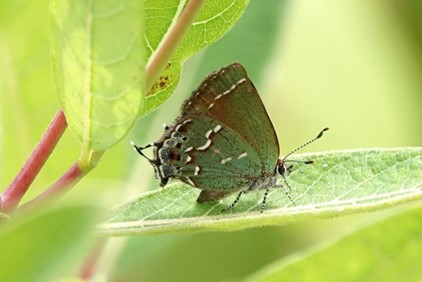 Photo by Juan Gonzalez, Peck's Skipper at The Clifton Institute 28th Annual Butterfly count
The Clifton Institute had a great count this year! They found 1,856 butterflies of 39 species. Compared to previous years, numbers were down, but diversity was about average. Other butterfly counts in the area have been down this year as well and we are guessing that the drought is to blame. Despite that, they had new high counts for Pipevine Swallowtail, Pearl Crescent, Red Admiral, Horace's Duskywing, and Sachem, and no new lows. Numbers of Sachems and Pearl Crescents were both way up from previous highs.
Photos from the day are here!
This year they had the help of 38 volunteer counters that ranged from beginners to experts. Their area leaders were David Cox, Victoria Fortuna, Sue Garvin, David Gorsline, Walt Gould, Larry Meade, and Rebeca Sanchez-Burr. Many thanks to all for supporting the count!
A Thank you also to all of the landowners that allow access and make this count possible each year! Peck's Skipper photo by Juan Gonzalez.
https://fairfaxmasternaturalists.org/wp-content/uploads/2023/08/Photo-by-Juan-Gonzalez-Pecks-Skipper-at-The-Clifton-Institute-28th-Annual-Butterfly-count.jpg
282
422
Mary Ann Bush
https://fairfaxmasternaturalists.org/wp-content/uploads/2023/08/VMN-Fairfax-cmyk_w223h156.jpg
Mary Ann Bush
2023-08-03 09:32:15
2023-08-03 09:32:15
Results of The Clifton Institute's 28th Annual Butterfly Count