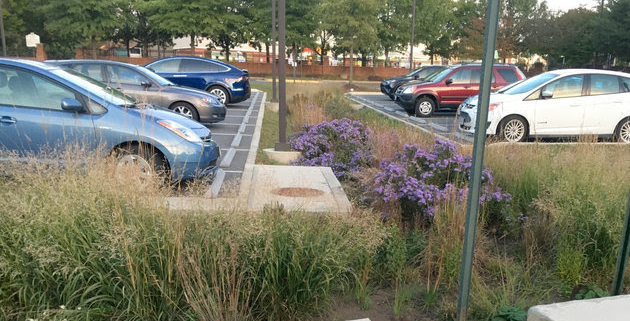 Photo and article by Plant NOVA Natives
The outdoor space on larger properties in Northern Virginia, whether residential or commercial, is typically divided into formal landscaping close to buildings and natural areas at the periphery. New practices are emerging on how to manage both areas, practices that protect the ecosystem and support the birds and the butterflies while better satisfying human needs.
The natural areas between properties are an important amenity, providing visual barriers and sound buffers while capturing stormwater and reducing flooding. Looking around, it is evident that those natural areas are often being left to take care of themselves. The result is that they are steadily degrading as the native trees are displaced by invasive non-native trees and are directly killed by invasive vines. The shrubs and ground layers are equally damaged by invasives species at those levels. Many of these invasive plants originate from the landscaped areas where they had been planted before people knew to do otherwise. Preserving trees and habitat in both areas requires taking out the invasives and replacing them with native species, of which numerous options are available.
Some other tweaking is also needed to common landscaping practices. To name a few examples, piling mulch against the trunks of trees causes the bark to rot. Blowing the fallen leaves out from under trees destroys the cover where fireflies and many butterflies overwinter. Leaf blowers with two-stroke engines pour pollution into the air and are loud enough to damage workers' ears. Outdoor lighting can adversely affect birds, insects and plants. Spraying insecticides kills the bees and caterpillars even more than the mosquitoes they are intended to target. Simple solutions are available to mitigate all these problems.
Professional property managers and community managers negotiate the contracts with landscaping companies and can work with them to adjust their services. Details of the various options for both landscaped and natural areas can be found on the Plant NOVA Trees website in a section specifically for professionals. www.plantnovatrees.org/property-managers Please spread the word to the managers of any properties where you live or work.
https://fairfaxmasternaturalists.org/wp-content/uploads/2022/11/unnamed-1.jpg
375
630
Janet Quinn
https://fairfaxmasternaturalists.org/wp-content/uploads/2023/08/VMN-Fairfax-cmyk_w223h156.jpg
Janet Quinn
2022-11-18 08:22:56
2022-11-18 08:22:56
Managing larger properties for birds, butterflies, and people