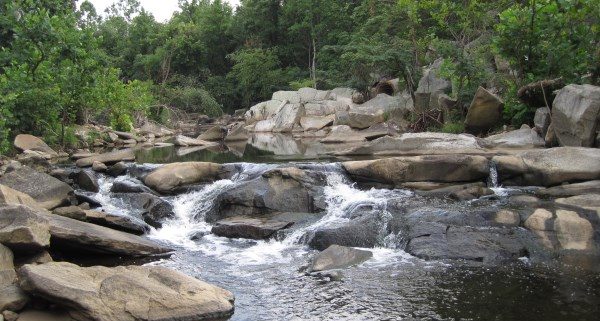 Opt outside on Black Friday and visit our parks
Embrace the cooler weather at Ellanor C. Lawrence Park as you learn about the signs of fall. Visit the Walney Visitor Center and get a fall identification chart for your park exploration.
At Frying Pan Farm Park, you can borrow a program backpack at the Country Store. Inside you will find instruction for activities at six trail stops to help your child learn about the natural wonders found at the park.
Visit Hidden Oaks Nature Center to enjoy a visual scavenger hunt along the 1/3-mile Old Oak Trail. There are options available for preschool and elementary age children and their families. Hidden Pond Nature Center is also offering a scavenger hunt to explore the surrounding trails.
Discover the plants and animals of Huntley Meadows Park. Come to the front desk in the Norma Hoffman Visitor Center and ask to borrow a scavenger hunt sheet to aid your outdoor adventure.
At Riverbend Park, families can look, listen, learn and create along the Duff N Stuff Trail. Stop by the Visitor Center to get a copy of a new Scavenger Hunt, designed by a local Girl Scout.
The county's lakefront parks have ways to keep you busy, too. Burke Lake Park offers a tree scavenger hunt. At Lake Accotink Park, there are self-guided hikes, or you can go on a scavenger hunt at Lake Fairfax Park. Lakefront parks are open from 9 a.m. – 5 p.m.
All of these activities are free, and no registration is required. Please call the park offices for site specific check-in locations and activity times. Add to your day of outdoor fun by doing a little hiking, biking, picnicking or fishing on your own.
For more information and directions to each park visit Fairfax County Park Authority or please call their respective offices at:
Burke Lake Park 703-323-6600; Ellanor C. Lawrence Park 703-631-0013; Frying Pan Farm Park 703-437-9101; Hidden Oaks Nature Center 703-941-1065; Hidden Pond Nature Center 703-451-9588; Huntley Meadows Park 703-768-2525; Lake Fairfax Park 703-471-5414; Lake Accotink Park 703-569-3464; Riverbend Park 703-759-9018.
https://fairfaxmasternaturalists.org/wp-content/uploads/2018/11/Mainstem16-2012-09.jpg
450
600
vmnfairfax
https://fairfaxmasternaturalists.org/wp-content/uploads/2017/02/FMN-Logo-300x222-1-300x222.png
vmnfairfax
2018-11-18 19:10:43
2018-11-18 19:11:41
Opt outside on Black Friday and visit our parks