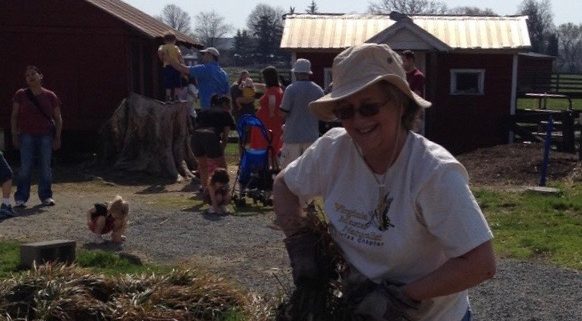 Frying Pan Farm Park Pollinator Garden: Community Partnerships in Action
Kim Scudera
In 2011, Frying Pan Park did not have a pollinator garden.
By October 2012, they did, and Fairfax Master Naturalist volunteers are the reason. Here's the story.
Frying Pan has a long history, and hosts thousands of visitors each year, many of whom are the future stewards of our environment: young children. My own children had participated for years in summer camps at Frying Pan, learning about farm life and farm animals, making butter, playing outdoors.
In July of 2012, Ashley Stanton, then service project chair for FMN, put out a call for the development of a pollinator garden, as a "thank you" to Frying Pan for hosting our annual meeting.
Sarah Mayhew, FMN Class of '07, pulled together a team of people from Frying Pan Park, the Fairfax chapter of the Virginia Master Naturalist program, and representatives of the Virginia Native Plant Society (Potowmack Chapter) and Earth Sangha. Without her strong leadership, this project could not have happened. Carmen Bishop, FMN '07, served tirelessly as liaison to the park.  
A site was chosen near the historic farmhouse: the location wraps around the south and east sides of the park's Dairy House, where a neglected garden, created by a Girl Scout troop about ten years back, was in need of a major retrofit.
With lots of input from Carmen, Sarah, Cindy Morrow, Amol Kaikini, Terrence Liercke, Alan Ford, and Lisa Bright from Earth Sangha, I designed the pollinator garden in August 2012. By September, garden preparation was complete, and plants were donated by many FMN'ers, and by VNPS Potowmack and Earth Sangha.  
Why did VNPS and Earth Sangha choose to become involved? Expanding our understanding of the value of native plants, and putting those plants into the hands of Virginia homeowners, schools, and businesses, are key elements of the missions of these two organizations. Personal connections matter, too: for example, then-VNPS Potowmack President Alan Ford is a Fairfax Master Naturalist, and these personal connections brought volunteers and donations of plants to the garden.
Two planting days were all it took to get the garden established. The garden includes many plants important to bees, butterflies, and other pollinating insects, including goldenrods, bee balm, and milkweed.
It's one thing to get a garden started; the real challenge is keeping it going. Since 2012, I have donated over 275 hours of time caring for this garden, with help from the park (big thanks to Patrick McNamara and Marge Landis) and from FMN members. Cindy Morrow and Cynde Sears have been exceptionally helpful. 
The scope has expanded from the original Dairy House planting to maintenance and expansion of the herb garden around the Smoke House adjacent to the Dairy House.  
The herb garden was already a real magnet for pollinators of all sorts:  bees, butterflies, flies, wasps, and more. It was already home to a substantial stand of our native mountain mint. Adding more native plants with culinary uses was an obvious addition to our mission at Frying Pan, and Girl Scout Rachel O, along with her sponsor Kay Fowler, added many of these plants in 2016.
The garden has filled in well since it was first planted:
These photographs document the growth that made possible a dramatic increase in beneficial insects and their larvae in the garden: butterflies and moths (e.g., skippers, fritillaries, monarchs, cecropia moths) have been most prevalent. 
The garden has not only attracted more flying visitors—it has encouraged a considerable increase in two-legged traffic as well. The pollinator garden has hosted Brownie and Scout troops, summer campers and school groups for presentations on the value of pollinators and the plants that host them, and a steady stream of park visitors now have an interesting destination right next to the historic farmhouse, and en route to the chickens. 
In addition, at the park's major events, FMN has hosted information tables which reached dozens of park visitors.  These tables were staffed by Marilyn Schroeder, Joe Gorney, Valerie Lamont, Barbara Whayne, and me.
Tending the garden—which I have done since inception—is a labor of love. I plan to not only keep it going, but to make it a service project of choice for the chapter (look for S109 if you're a member). There's still so much to do: more edging, pruning, planting, signage, weeding, formal certification by Audubon at Home, National Wildlife Federation, Xerces… And as my mother and grandmother always said, "Many hands make light work!"
Join us!
https://fairfaxmasternaturalists.org/wp-content/uploads/2019/02/Kim-Scudera-works-e1550456087101.jpeg
296
500
vmnfairfax
https://fairfaxmasternaturalists.org/wp-content/uploads/2023/08/VMN-Fairfax-cmyk_w223h156.jpg
vmnfairfax
2019-02-18 02:17:39
2019-03-10 23:10:40
Frying Pan Farm Park Pollinator Garden: Community Partnerships in Action