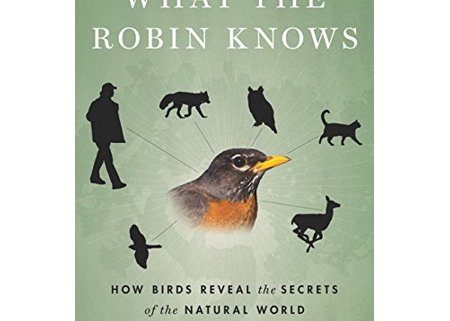 What the Robin Knows: How Birds Reveal the Secrets of the Natural World, by Jon Young
Reviewed by Ann DiFiore
Jon Young is an expert on bird language. Growing up near New Jersey's Pine Barrens, Jon became fascinated with the wildlife outside his door. Under a local naturalist's tutelage, he learned to recognize birds, their various calls, and the role they played in their habitat. He has since studied with San Bushmen in the Kalahari and indigenous peoples all over the world, learning techniques for tracking and observation, as well as their philosophies towards wildlife, the natural world, and our place in it.
Today he lives in Northern California and teaches seminars on bird language. Birds, he believes, are the watchers and sentinels of the natural world. Understanding bird language and behavior is key to learning how to access, connect with, and understand nature.
By learning the primary, or baseline, forms of vocalization—songs, companion calls, territorial aggression and adolescent begging—we can recognize alarm calls that break the pattern. Young has his students establish a daily "sit spot," a place to observe bird activity and calls each day, becoming familiar with birds, feeding patterns, habits, and vocalizations. That familiarity opens up a new world of understanding and awareness: "…ultimately the birds will yield to us the first rite of passage:  a close encounter with an animal otherwise wary of our presence" (p. 173). 
Young's insights into the complexity of bird language (chickadees vary alarm calls to indicate a specific predator, its proximity and approach), the uniqueness of each species and its behavior, infuse the reader with new appreciation for birds and all wildlife. 
In What the Robin Knows, Young discusses human impact on wildlife and suggests we adopt a routine of invisibility, an attitude of awareness, respect, and calm that minimizes disturbance. Heedless humans are responsible for bird plows—an alarm shape or form taken by birds when fleeing predators. While the humans may not mean harm, predators take advantage of disoriented songbirds, swooping down as they flee, using a technique called "wake hunting." 
Master Naturalists will find Young's information on bird communications and behavior fascinating. The techniques he uses to promote nature awareness and connection would be valuable to educators and interpreters. 
A section of the book that I found especially enjoyable and eye-opening related to observations of companion calls between mated pairs of cardinals' daily visitors to my bird feeder. Their basic exchange is a "chip…chip" uttered every five seconds. I learned that what seemed like a bird version of humming is actually a means of checking on each other's safety:
"Are you there?" 
"Yes, are you okay?"
"Everything's fine, are you?"
When a "chip" goes unanswered, the mate will follow up with a more insistent "CHIP!" and then go to investigate. Young witnessed a concerned male fly towards his lady's last "chip" to find her rocketing towards a shrub, a sharp-shinned hawk in hot pursuit. The male flung himself in front of the sharpie, spinning the hawk off course and saving his mate—a true Valentine's Day cardinal's tale. 
As Young observes, "If we learn to read the birds. . .we can read the world at large" (p. 173). What the Robin Knows is a great primer.
Want to review a resource? We'd love to hear from you. Instructions for submission await your click and commitment.
https://fairfaxmasternaturalists.org/wp-content/uploads/2019/02/45d9d61f-62ec-4a4a-b94e-b27b9f86541e_1.d62dc8def16e0c2f6616e0e3a744c62d.jpg
450
450
vmnfairfax
https://fairfaxmasternaturalists.org/wp-content/uploads/2023/08/VMN-Fairfax-cmyk_w223h156.jpg
vmnfairfax
2019-02-14 03:12:45
2019-02-20 20:19:37
What the Robin Knows: How Birds Reveal the Secrets of the Natural World, by Jon Young