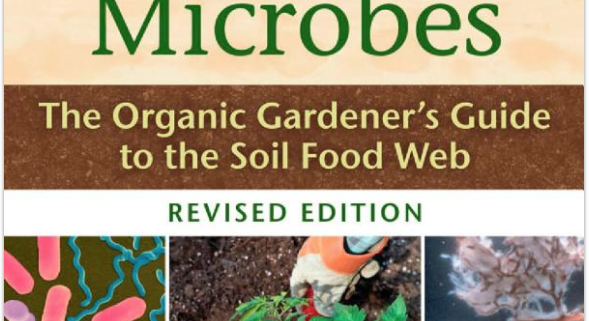 Review of Teaming with Microbes by Jeff Lowenfels & Wayne Lewis
Article by FMN Marilyn Schroeder
Dan Schwartz, Soil Science and FMN Instructor extraordinaire, knew what he was talking about when he recommended Teaming with Microbes.  With a conversational style and lots of pictures, Teaming is the perfect naturalist guide to soil structure and the organisms living in it.  I couldn't wait to read each succeeding chapter – Bacteria, Archaea, Fungi, Algae, Protozoa, Nematodes….  There's so much I didn't know about what's happening under our feet – even after taking the wonderful Master Naturalist soils class and field trip.
But wait, there's more!  The book's subtitle is The Organic Gardener's Guide to the Soil Food Web.  The first half of the book lays the groundwork (ha,ha!) covering the science  – soil structure, chemistry, biology, microbiology…the whole ecosystem.  Then, for gardeners, the second half describes how to foster a healthy, active food web to nourish a bountiful garden.
Teaming with Microbes (Timber Press, 2010, 220 pages) is available in the Fairfax County Library.
https://fairfaxmasternaturalists.org/wp-content/uploads/2023/03/Screen-Shot-2023-03-20-at-5.59.06-AM.png
760
589
Janet Quinn
https://fairfaxmasternaturalists.org/wp-content/uploads/2017/02/FMN-Logo-300x222-1-300x222.png
Janet Quinn
2023-03-20 06:16:55
2023-03-20 06:37:25
Review of Teaming with Microbes by Jeff Lowenfels & Wayne Lewis