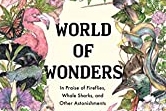 Review by FMN Janet Quinn
A collection of 28 essays on topics ranging from catalpa trees to fireflies, reading this book did indeed fill me with wonder! I Googled a photo of a Southern Cassowary, listened to the call of the Potoo, and researched more about the delightful axoloti. Nezhukumatathil's prose is full of fascinating particulars about the creatures and plants of which she writes. For example, migrating monarch butterflies flying over Lake Superior still veer around a specific place where a mountain previously, but no longer, rose out of the water thousands of years ago. Anyone who has ever wondered about the natural world will learn from and appreciate these essays.
The double delight in this book is the beautiful, poetic writing of Nezhukumatathil through which she weaves stories of her childhood, growing up as a "brown girl" in western Kansas, meeting her husband, and sharing nature with her two sons.
She likens her friends who played outside with her in Arizona to the Cactus Wren, which lives in the saguaro cactus. "We were tough. Each of us so thin and small boned with spines strong and ready for a fight in case we ever needed to stand and face a shadow lurking over us." She recounts the time when she moved between her sophomore and junior years of high school and was the new girl. She called it her "cephalopod year" when she would disappear as quickly from social situations as the vampire squid could from danger.
She knew her husband was "the one" when he did not shy from her description of the corpse flower and actually volunteered to take her on a road trip to see one with her. She ties their wedding to the colors of the Superb Bird of Paradise when her Indian relatives dance the "Macarena" with her husband's relatives from Kansas.
Oh! I could go on and on, but you would enjoy it and learn so much more if you read it yourself.
Illustrated by Fumi Mini Nakamura
Milkweed Editions
184 pages
https://fairfaxmasternaturalists.org/wp-content/uploads/2021/07/World-of-wonders-e1627604855393.jpg
111
166
Janet Quinn
https://fairfaxmasternaturalists.org/wp-content/uploads/2023/08/VMN-Fairfax-cmyk_w223h156.jpg
Janet Quinn
2021-07-21 18:25:31
2021-07-30 00:27:51
Review of World of Wonders, In Praise of Fireflies, Whale Sharks and other Astonishments, by Aimee Nezhukumatathil