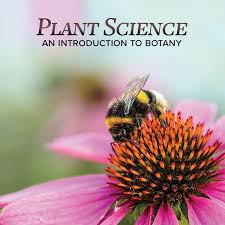 Reviewed by Becky Strode
Plant Science: An Introduction to Botany (The Great Courses, 2017) is an informative and engaging course that you can watch on DVD or via digital download. Best of all: no homework and no tests! Plant Science comprises 24 half-hour lessons, and a 214-pp. course guide. The instructor—Catherine Kleier, Professor of Biology at Regis College in Denver—surveys the plant world, using photos, videos, computer animation, and her own obvious delight in the subject to make her lectures come alive. The result is intellectually stimulating and entertaining. After watching this course, you will look at plants with a keener eye and a deeper sense of wonder.
The first unit, "The Joy of Botany," discusses what makes a plant a plant, looking at the cellular level. Subsequent lessons describe differences in the reproductive cycle of mosses, ferns, conifers, and flowering plants. Photosynthesis is explained using computer graphics to illuminate the complex biochemical processes by which plants turn light into energy and energy into sugars. Kleier discusses pollination, seeds, and fruits as well, and you will learn why a tomato is a fruit, and a strawberry is not!
Kleier also looks at plants from an ecosystem perspective, from underwater environments to deserts. She discusses problems caused by invasive species, concluding with a discussion of the promise and the potential dangers posed by genetic modification of plants. The range of potential dangers from genetically modified organisms (GMOs) that she identifies is wide and includes ecological, human-health, and economic risks. Kleier also describes new techniques on the biotechnology horizon that may enable scientists to make beneficial plants more resistant to disease without modifying their genes.
Plant Science can help a Master Naturalist contribute to our mission of environmental stewardship and education in several ways. The information you learn will help you better understand the plants you see around you every day. This will enhance your own enjoyment of nature and reinforce your desire to protect it. The course will also sharpen your observation skills, making you a more effective leader or participant during nature walks. You'll know what to look for when you encounter plants, helping you identify them and place them in a broader ecological and evolutionary context. Finally, drawing from the course's clear explanations and many examples of botanical concepts, you'll be better able to share your knowledge and enthusiasm with others.
This class counts toward Master Naturalist continuing education credits.
Want to review a resource? We'd love to hear from you. Instructions for submission await your click and commitment.
https://fairfaxmasternaturalists.org/wp-content/uploads/2018/01/Great-Courses-Plant-Science-1.jpeg
225
225
vmnfairfax
https://fairfaxmasternaturalists.org/wp-content/uploads/2017/02/FMN-Logo-300x222-1-300x222.png
vmnfairfax
2018-01-30 03:33:25
2018-02-18 15:22:15
Review of Plant Science: An Introduction to Botany, by Catherine Kleier