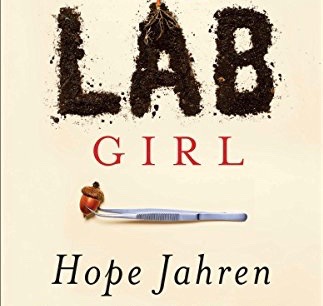 Reviewed by Sarah Glassco
Lab Girl (2016, 512 pp) recounts the life and career of a research scientist in the field of  geobiology. Because her roots are relevant to her present, Jahren writes about  her childhood in Minnesota, where she was raised in an unemotional, uncommunicative family. She spent her days with her mother, who gardened to put food on the table and studied literature to earn a college degree by correspondence course. In the evenings, Jahren played in her father's laboratory. (He taught college physics and earth science.) Here she felt she "transformed from a girl into a scientist," so she took the necessary steps to become a plant scientist with a gift for writing. Her anecdotes are as compelling as her insights. Clear-sighted, funny, and unromantic, she describes the professional challenges for a female scientist.
A failed experiment early in her career caused her to shift her approach to botanical research. "I tried to visualize a new environmental science that was not based on the world that we wanted with plants in it, but instead based on a vision of the plants' world with us in it." Much of what we study in our master naturalist training backs up this sensibility. The whole field of ecology is based on understanding the complex interrelationships of unique organisms. In our naturalist training lecture on botany, we learned about the importance of fungal mychorrizae to the growth of plants. We also learned that the invasive garlic mustard is particularly destructive because it poisons the arbuscular fungal mychorrizae on which many native plants rely.
Science is complex, but good storytellers like Jahren make it as simple as possible. To this end, she structured the book in layers, with essays about plant lives that parallel phases in her life and career. She recounts the latest research into plants, and gives us glimpses of discoveries that are changing scientific ideas about their natures.
Her observation that "perhaps I was destined to study plants for decades only in order to more fully appreciate that they are beings we can never truly understand" is relevant to all of us, no matter where we are in our own quests to be worthy, engaged participants in the natural world. Now, when I see a maple tree, I remember that the saplings beneath it rely on water drawn up and shared from the mature tree's roots for their survival. When I see a willow tree, I remember that its annual growth rate is nearly twice that of its closest competitor, and that it stores nutrient reserves in older branches and sheds them to send colonists out into the world.
You too will be amazed by the stories this masterful naturalist tells, and inspired to share her appreciation of plants as complex beings with lives of their own.
Want to review a resource? We'd love to hear from you. Instructions for submission await your click and commitment.
https://fairfaxmasternaturalists.org/wp-content/uploads/2018/02/Lab-girl-1.jpg
306
323
vmnfairfax
https://fairfaxmasternaturalists.org/wp-content/uploads/2023/08/VMN-Fairfax-cmyk_w223h156.jpg
vmnfairfax
2018-02-03 20:00:30
2018-02-18 15:19:37
Review of Lab Girl, by Hope Jahren